Zucchini Rice Bake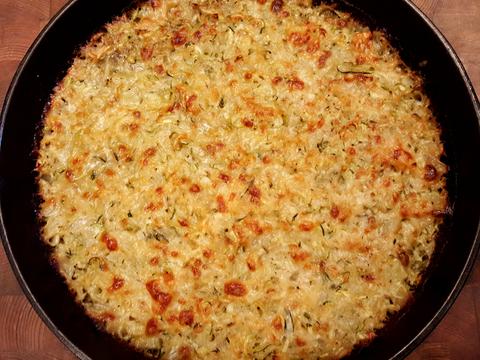 Zucchini season is almost over. We are a bit sad, but making the best of it.  Here is another one of our favorite recipes. Handed down by our late Grandmother, we made a few changes to lesson the fat and calories (sorry Grandma!) but believe us, the taste has NOT been compromised.
Let's do this!
2 1/2c./455g. Zucchini (grated/shredded)
2 Tablespoons Olive Oil
1 Large Onion (chopped)
4-6 cloves Garlic (minced)
2 Tablespoons Whole Wheat Flour
1/2 c. /125ml Milk (we used Almond milk)
1 c. /195g. Brown Rice (cooked)
1/2c./35g. Parmesan Cheese for the main dish, additional 1/4c./20g. for topping.
1 teaspoon (each) Thyme, Salt & Pepper
First, you will want to cook your rice according to your packages directions. 
While that is cooking, you'll have time to grate/shred your zucchini, chop your onion and mince the garlic.
In a skillet over medium heat, drizzle only 1 Tablespoon of the olive oil. Saute the onions for a few minutes, stirring them a few times. When they start to turn translucent, add the minced garlic and stir that in. Cook these for another minute or two.
At this time, you want to turn your oven on to 425 degrees fahrenheit. 
Now you can add the zucchini and then sprinkle the flour over this. Mix it all together.
Time for the milk, rice, 1/2c./35g. of the cheese and the seasoning. 
Stir it all together until it is well combined.  Make sure to spread it out evenly in your skillet (or if you are going to use a baking casserole dish).  Drizzle the other 1 Tablespoon of olive oil over the zucchini and rice, then sprinkle the remaining 1/4c./20g. of parmesan cheese on top.
Place this into your pre-heated oven and bake it for 35-45 minutes (depending on your oven).
Once it's done, carefully remove it from the oven and let it cool for a few minutes before cutting.
We hope you enjoy this recipe from our Grandma as much as we do!
(Today, we ate this with baked boneless/skinless chicken and salad). 
We cut this into 8 servings of approximately 4.25oz/120g. each.
Each serving contains,
Cal.                    124
Fat                      6.5g.
Carb.                  10g.
Sugar                  1.5g.
Protein                5.5g.