Protein Peanut Butter PopCorn Balls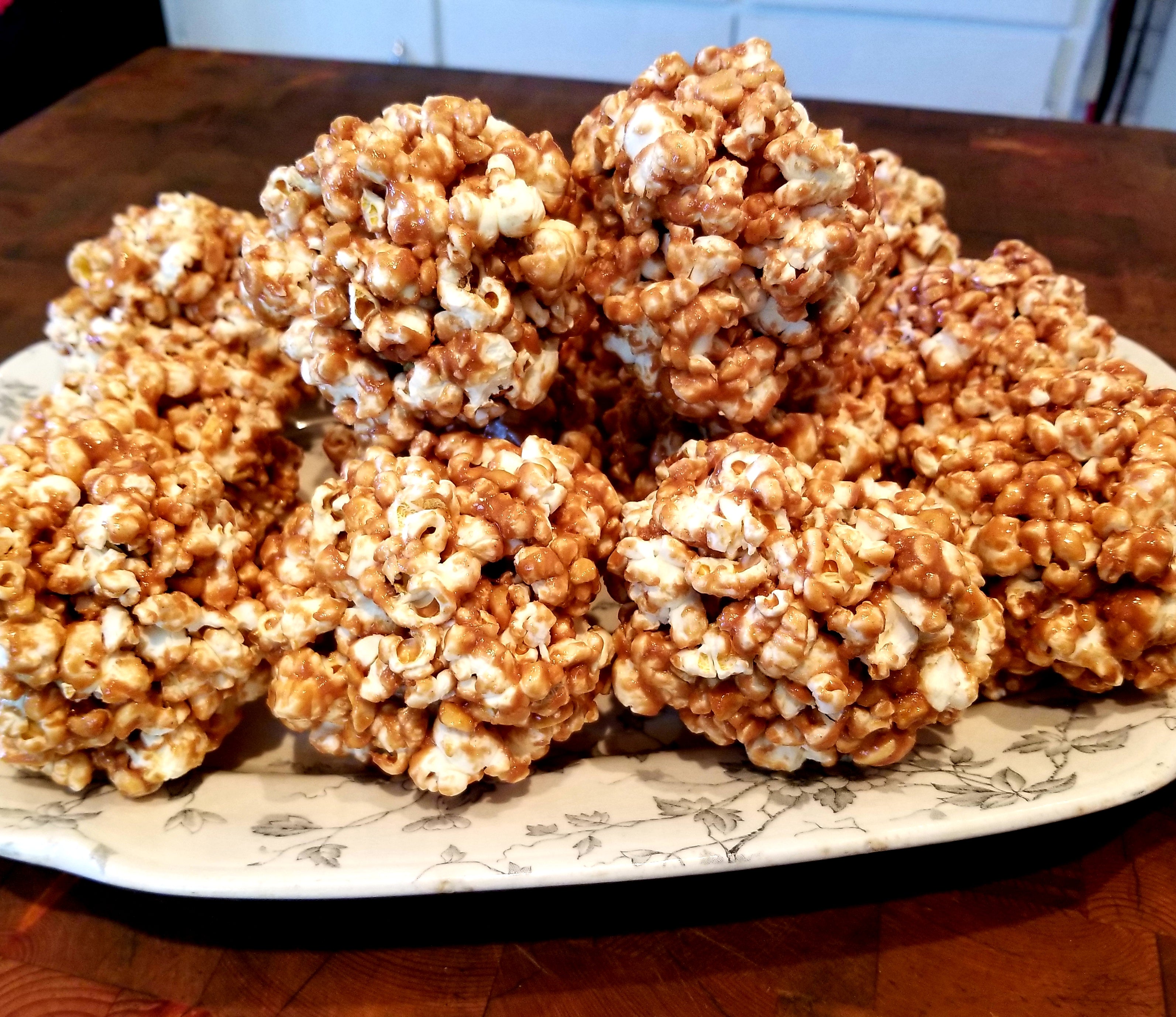 Who agrees that thinking about PopCorn Balls brings back childhood memories?  Smelling that popcorn pop. Watching all that corn syrup and butter bubbling on the stovetop.  Adding different food colorings to make them all fun and appealing? Burning your fingers or hands helping form those balls. Yeah, good memories.
But now, in our present, we want to make new memories. Healthier memories and still enjoy them as well.
Here it comes....Protein Peanut Butter PopCorn Balls. Are they easy to make? YES! Are they really healthier? YES! The big question, do they taste good? YES!
Ok then, let's make these and start those memories.
12 cups (approx. 1/2 c / 110g. un-popped) popcorn
3/4 c./240g. Agave 
1/2 c./120g. Peanut Butter (or nut butter of your choice)
2 Scoops Whey Protein (flavor of your choice)
First thing is to pop the popcorn.
We are using our air popper that we've had for years.  This way you are not adding any additional fat or calories from oil in a pan or microwaved popcorn.  But, if that is all you have, keep in mind it will change the nutritional breakdown a bit.
After the popcorn is popped, set the bowl aside.  Now it's time to make the Ooey, gooey, rich and chewy part.
In a sauce pan on medium heat, pour your agave first.  Then add the peanut butter and start mixing. It doesn't take but a few minutes for them to blend together. Just as it starts to bubble, keep stirring and turn off the stove. 
Remove it from the heat and now add the 2 scoops of Protein powder. Mix that well.
Slowly pour this over the popcorn and try to spread it out as evenly as possible. Then, using a spoon or spatula (this works best) Scrap and fold, scrap and fold. You don't want to break up the popcorn. Make sure every piece is covered in all this yumminess. 
Next, take a pinch of butter and rub it into the palms of your hands (this helps you form the balls and for it to not stick to your hands).  Take a handful and press and turn and make those balls!
That's it! You are done.  Oh, wait, no you aren't. Now you need to EAT some :0)
Healthier fats, natural sweetener, more protein, we hope you make these and enjoy them as much as we do. 
Stay Safe, Stay BUFF!
We got 15 Popcorn Balls from this recipe. You can make them bigger or smaller according to your taste.
One ball is one serving.
Each serving contains,
Calories                      221
Fat                               9g.
Carbs                         28g.
Sugar                         14g.
Protein                        9g.