Turkey Meatballs with Homemade Sauce - Slow Cooker Recipe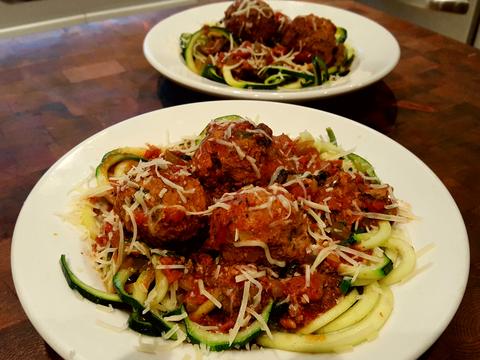 It's summertime. It's hot outside and you are wondering what to make for the next week. Well, pull out your Slow Cooker because we have a Turkey meatballs & homemade sauce recipe ready for you! It's a little more work than some of our Slow Cooker recipes, but it's well worth it.
Let's do this!
MEATBALLS
2 lbs/908g. Ground Turkey
2 large eggs
1c./81g. Whole Wheat Panko ( bread crumbs )
1T. minced Garlic
1T. dried Parsley
1/4c./21g. Parmesan Cheese
1c./30g. Chopped Spinach ( tightly packed )
1 medium Onion, finely chopped ( 1/2 for meatballs, 1/2 for sauce )
SAUCE
2T. Olive oil
1/2 of the chopped onion
1T. minced Garlic
1t. Oregano
1t. Thyme
1t. Salt
1/2t. Pepper
6 baby Portabella Mushrooms, diced
1 green bell pepper, diced
1 28oz/794g. canned crushed tomato
1 14.5oz/411g. diced Tomatoes with juice
We will want to put together the sauce first so that it can simmer for several minutes while we put together the meatballs. Dice up your onion, bell pepper and mushrooms.  
You will sautee' (on medium heat) the onion for a few minutes, then add the garlic and stir until the onions become translucent.  Now add the diced bell pepper and mushrooms.
Cook these for a few more minutes stirring several times.
Now, add your canned tomatoes and seasonings. Stir all together and wait for it to start bubbling. Once that starts, turn the heat down to medium low and let it simmer while you put the meatballs together.
In a large bowl, put your ground Turkey, eggs, bread crumbs, minced garlic, dried parsley, parmesan cheese, chopped spinach, and onion all together. With clean hands, mix this until it is well combined.
Once you have it all mixed well, it is time to form your meatballs. We make them about the size of golf balls. This makes 24 balls approximately 2oz/60g. each.
So, now it's time to put everything into our Slow Cooker.  Carefully pour half of your homemade sauce into the bottom of the Slow Cooker.  Place the meatballs into the sauce. You may have to press them close together, that's ok, they will shrink some as they cook. Now, carefully pour the rest of the sauce over the meatballs.
 Now that the sauce is covering the meatballs, it is time to cover and place your Slow Cooker on High for one hour then turn it to Low for the last 3 hours.  
Or, if you will be away, just turn it on to Low for 6-8 hours. (depending on your cooker)
Oh, the heavenly smell!
That's it! Time to serve this up with your choice! Rice, pasta, potatoes or zoodles like we did tonight.
We hope you enjoy, take care. :0)
We broke this down to 8 servings of 3 meatballs with approximately 1/2 cup of sauce each.
Each serving (meatballs and sauce only) contains:
Cal.                 305
Fat                  14g.
Carb.              16.5g.
Sugar              5g.
Protein            25.5g.