Turkey Bacon Wrapped Sweet Potatoes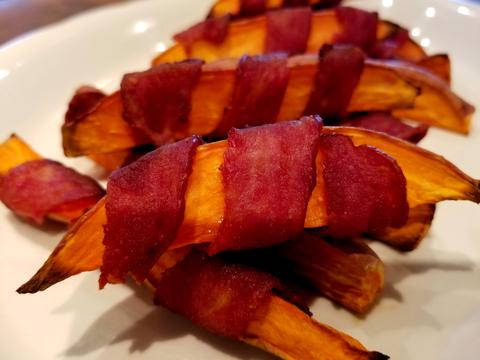 We like Sweet Potatoes. We like Turkey Bacon. Put them together, and we LOVE them!
A super easy recipe for breakfast, snacks or dinner. 
How easy? Well, lets find out!
2 medium sized Sweet Potatoes ( scrubbed and skin on )
6 slices Turkey Bacon ( cut in half length wise )
First, you will want to pre-heat your oven to 400 degrees fahrenheit.
Now, after you have scrubbed your potatoes clean (we leave the skins on) cut off the ends and then carefully cut them in half and then in thirds lengthwise.  We got 6 wedges per potato. 
Next, stack your 6 slices of Turkey Bacon on top of each other and slice from one end to the other (making 12 thin slices).
To wrap, start by putting one end underneath (so the wedge will "sit" on it on the oven tray) then wrap it around a few times.  Use a toothpick to hold it into place.
When done, place them onto your baking tray so they are not overlapping or touching.  You want them to get nice and crisp or crunchy. 
Time to pop them into the oven for 15 minutes. 
When that time is up, carefully turn each wedge over so they get crisp and crunchy on all sides. Bake for another 10 to 15 minutes.
When they are done, remove the tray from the oven and let them cool down for a minute or two, then plate them up and enjoy!
We divided this into three servings. ( 4 wedges each )
Each serving contains,
Cal.              163
Fat                4g
Carb.            17g
Sugar           3.5g
Protein         13.5g