Triple Chocolate Avocado Brownies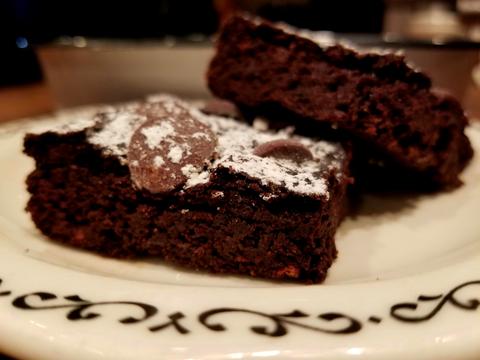 Say what? Avocado in brownies? Why you ask? Look up the health benefits of an avocado and you will want to incorporate them into your daily consumption asap! They are loaded with healthy fats, fiber and numerous nutrients. They have more potassium than bananas. Plus, they are super high in antioxidants. To convince you even more, if we had used butter, like a lot of recipes, it would have added over 800 calories to this recipe. With the avocado, it was under 200. 
Add to this, dark chocolate and cacao nibs ( which have more antioxidant activity than tea, wine, blueberries and even goji berries, also high in fiber and iron. ) and you'll have a  desert that is super healthy and a guilt free indulgence. 
You don't like the taste of avocado? That's ok! Believe us, you won't even taste it. It's TRIPLE chocolate with a hint of the banana. You're still not sure? Well, lets make these right now and find out!
1 large Avocado
1 small Banana
1/2 cup/125 ml real Maple Syrup
1 teaspoon Vanilla extract
3 Eggs
1/2 cup/66g. Coconut Flour
1/4 cup/24g. unsweetened Dark Cocoa Powder
1/4 cup/28g. Cocao Nibs
1/4 teaspoon Salt
1 teaspoon Baking Soda
1/3 cup/50g. Dark Chocolate Chips
2 Tablespoons Powdered Sugar (Optional)
First, you will want to pre-heat your oven to 350 degrees fahrenheit.  Also, we greased our 8x10 pan with a little coconut oil.
Next, cut and scoop out your avocado into your food processor.  Cut your banana into small pieces over the avocado and drizzle the maple syrup and vanilla extract over these. 
If you don't have a food processor, you can use a blender.
Whip these up until it is a smooth consistency.  You may need to stop a couple times to scrap the sides.
Meanwhile, in a large mixing bowl, add the eggs, flour, cocoa powder, cocao nibs, salt and baking powder.
To this, add the avocado mixture and mix it all up until it's all combined together.
Plop it into your greased pan and spread it out evenly.  Sprinkle your chocolate chips over the batter and press them down just a little.
Time to bake these for 20 to 25 minutes.
You know that they are done when they pull away from the sides and when you insert a toothpick (not into a chocolate chip!) and it comes out clean.
Let it cool a bit and sift some of that powdered sugar over the top. (optional)
Once it is completely cooled, cut it up into 12 pieces and ENJOY!
We cut this recipe into 12 brownies. Without the added Powdered sugar, each brownie contains,
Calories              112
Fat                      3.9g.
Carbs                 16.5g.   
Sugars                10g.
Protein                3.5g.