Sweet & Spicy Chicken Bites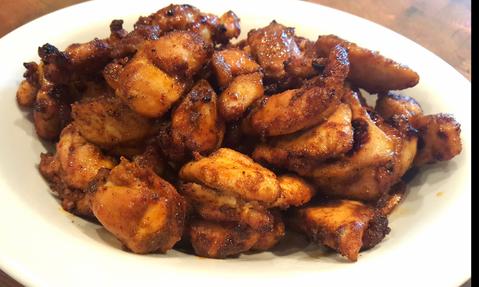 These chicken thighs are moist, spicy and sweet all at the same time.  Just hearing that, is your mouth watering?  Well it should be.  Let's grab the ingredients and in about 30 minutes you'll be able to taste for yourself!  Lets go!
2 teaspoons Garlic powder
2 teaspoons Chili powder
1 teaspoon Salt
1 teaspoon Cumin 
1 teaspoon Chipotle chili pepper
8 Boneless/Skinless Chicken thighs 
1/4 c./85g.  Honey
2 teaspoons Apple Cider vinegar
Cooking Spray
First, we put the garlic powder, chili powder, salt, cumin and chipotle chili pepper into large bowl and whisked it together.
Set this aside.
Next, we trimmed off any extra fat off the boneless skinless chicken thighs. Then, cut them into bite size portions. 
In a small bowl, we combined the honey and apple cider vinegar. 
At this point, you will want to turn your oven on to Broil ( we do it on HIGH putting the rack on the third level down )
Now add the chicken to the bowl with the spices.  Using a spoon, carefully stir and toss the chicken for several minutes to make sure that they are ALL coated with the spice mixture.
Line your baking pan with foil and spray it evenly.  Place your chicken onto your prepared
pan, close but in a single layer. 
Place the chicken in the oven and broil it for 5 minutes.  Carefully remove the pan and turn the chicken over.  Then broil the other side for 5 minutes as well. 
When the second side is done after 5 minutes,remove the pan and spread half of the honey mixture onto the chicken and broil for 2 minutes.
Once again, remove it from the oven and turn the chicken over.  Now spread the rest of the honey mixture and broil for the last 2 minutes. 
That's it!  
Remove them from the oven and let it rest for a couple minutes.  There will be juices that you can drizzle over your chicken when you serve it up. 
Enjoy! :0)
This makes 4 healthy servings of 1/4 lb. / 237g.  each.
Each serving contains ( meat only )
Calories         320
Fat                 11g.
Carb               26g.
Sugar             22g.
Protein           28g.