Sweet Potato Protein Crackers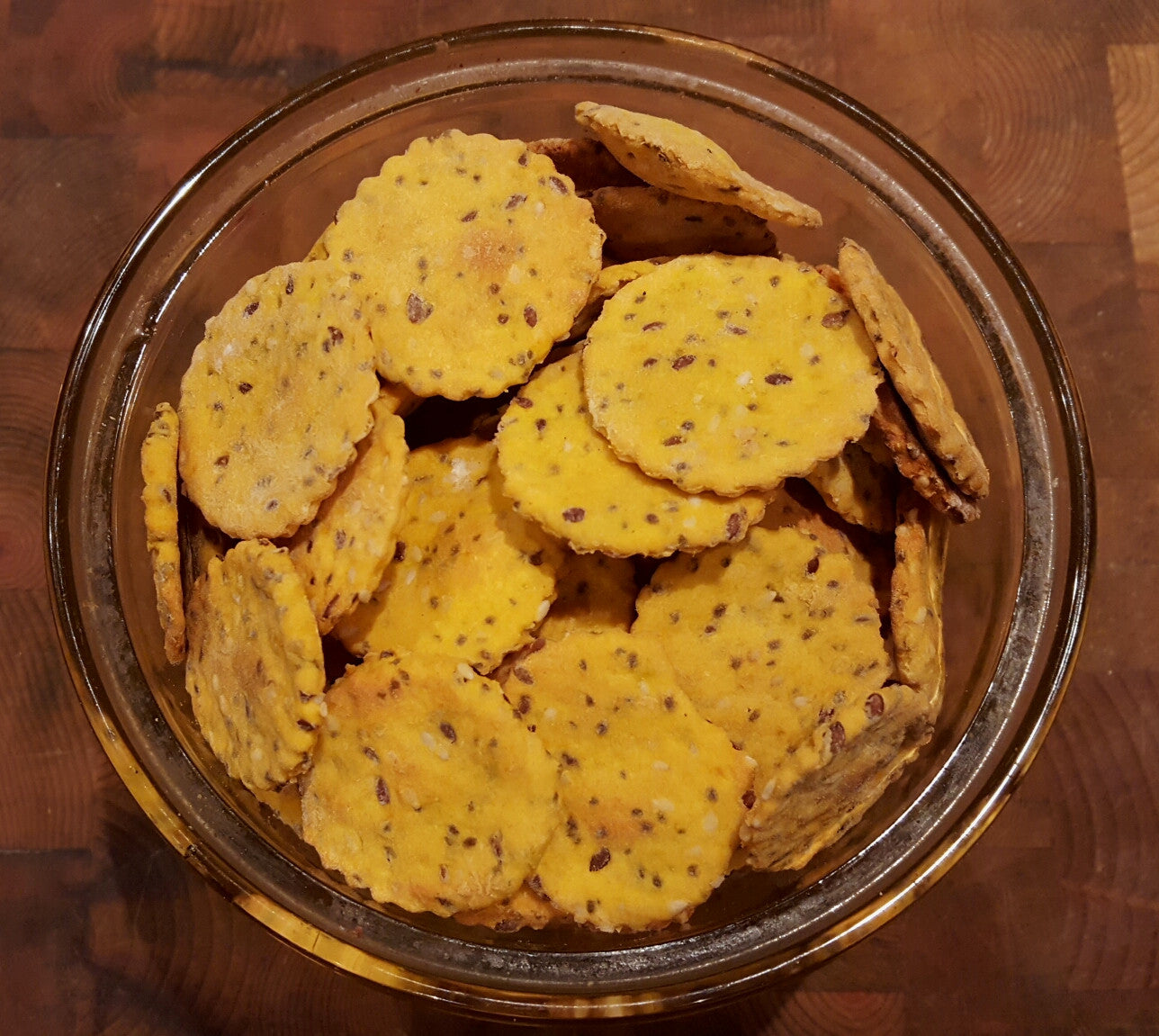 We've shared our Chili recipes, Hummus recipe, various Dip recipes, Soup recipes. What would go great with ALL of these?  Our cracker recipe, that's what! 
Sweet Potatoes, Sesame, Flax & Chia seeds equals a good source of vitamins A & C, fiber, protein, Omega 3 essential fatty acids (good fats) calcium, magnesium, cooper and much much more! Who wouldn't want to add this to their diet? 
Do you want to? Well, here it is....
1c. / 246g. Sweet Potato ( cooked, drained and pureed )
1 1/2c. / 188g. Flour ( we used wholewheat blend ) plus extra when kneading & rolling out the dough.
1 scoop Vanilla (or unflavored) Whey Protein
1/2 t. Salt
1/4c. / 28g. Toasted Sesame seeds
1/8c. / 20g. Flax seeds and Chia seeds
3T. Butter
First you will want to peel, dice and cook your sweet potato until very tender.  Drain and let it cool for several minutes.  Once it has cooled a bit, you can puree it by using a blender, mixer, food processor or as we did, using a fork and smashing it onto the sides or our bowl.
Place all of your dry ingredients into a separate bowl and whisk them up to completely blend them together.
Now add your butter.  We like to use a cheese grater.  This way, the butter is in much smaller pieces and it's easier to blend it into the dry ingredients.  With clean hands, massage the butter into the dry ingredients until it forms crumbles.
Add the pureed sweet potato and mix well.
You may put it onto a floured surface and knead it over and over with a sprinkle of extra flour until it is no longer sticky.
Place it back into your bowl, cover it with plastic wrap and refrigerate it four at least 30 minutes.
Once the dough has cooled and firmed up. It's time to roll it out. ( we like to divide it into two or three portions, this makes it easier )
Roll it out as thin as you can. Use a biscuit cutter and start cutting away! ( if you don't have one, you can use a small glass upside down or cut these into squares )
Preheat your oven to 350 degrees fahrenheit. 
We let our baking sheet heat up with the oven. This way the crackers start baking right away.
Lightly spray your sheet and place the crackers close but not overlapped. Bake for 8 minutes, flip and bake an additional 8 minutes.
Place them on a rack or wax paper to cool. 
That's it! Place them in a sealed container and store in your cupboard or on the counter, for an easy to grab snack.
Enjoy!  :0)
This recipe makes approximately 14.50 oz / 425g of crackers.
That is 10 servings of 12 crackers ( 1.50oz / 44g ) each.
Each serving contains,
Cal            150
Fat             7g
Carb          16g
Sugar         .5g
Protein       6.5g