Sweet Potato Pancakes - Grain Free ( Paleo )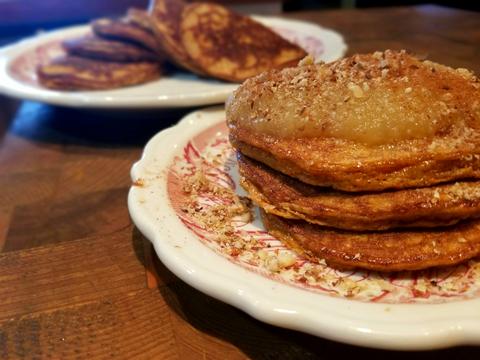 By now, pretty much everyone has noticed "gluten free" sections in grocery stores and on restaurant menus. 
It is a MUST for people who have been diagnosed with Celiac disease. For some, they may have an intolerance for certain grains. Others, it's trendy.  For us?  We just like the taste of the recipes we use that happen to be grain free.
These are quick to put together, grain free and moist.  Plus, they taste GREAT!
Let's make these!
1 cup/200g. Sweet Potato (mashed)
4 eggs
2 teaspoons Cinnamon
1/2 teaspoon Baking Soda
1/2 teaspoon Vanilla extract
2 Tablespoons Coconut flour
1 teaspoon Coconut oil ( to cook the pancakes on)
Remember last week when we boiled more Sweet Potatoes than we needed for that recipe?  We mentioned that we do that so we have a few cooked and stored in our fridge for future recipes.  Well, this is one of those recipes.  
Take out one of the boiled Sweet Potatoes and remove the skin.  Then mash it up (we used a fork).
Once you have it all mashed up, add your four eggs and whip these up together.
When they are nice and combined, add your Cinnamon, Baking Soda and Vanilla extract.  Mix well.
Your batter is very thin and runny.  Now, add your Coconut Flour. It's amazing how fast it thickens up with only 2 Tablespoons of this flour.  Mix well.
Heat your pan or skillet to medium low (this is a thick and moist batter, you don't want it to burn before it is done cooking in the center).
Melt your coconut oil on your pan.
We used a 1/4 cup/60 ml measuring cup to scoop out the batter. 
Cook on each side for about 3 minutes (you may notice a few bubbles forming). Carefully flip them over and cook approximately the same time.
Time to plate these up and devour them!
You could drizzle with some Pure Maple Syrup, that would be delicious.  Since these are so moist, we only topped them with some Unsweetened Applesauce and chopped Walnuts. 
We hope you enjoy these!
We were able to get 9 pancakes out of this recipe.  We broke it down to three servings of three pancakes each.
Each serving contains (without toppings)
Calories                  191.3
Fat                          7.5g.
Carbs.                    23.5g.
Sugars                    7.5g.
Protein                    11.5