Spinach Waffles Recipe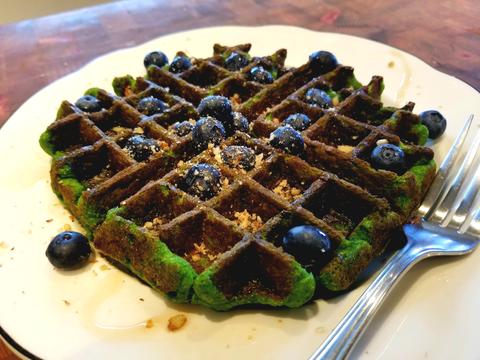 Spinach, the vegetable that gained fame back in the 1960's from the cartoon Popeye.  Who remembers the boiled and canned (resembling seaweed) pile of mush plopped on your plate at school or at dinner time?
Today, it is much improved.  Greener, tastier (and crisper) spinach fresh from the garden is often used for salads or sandwiches instead of lettuce.
It is low in fat and cholesterol.  It is high in niacin, zinc, protein, fiber, vitamins A,C.E,K and B6.  It has thiamin, folate, calcium, iron, magnesium, phosphorus, potassium, copper and manganese.  It health benefits seem endless.  
We like to incorporate spinach in our weekly diet.  But sometimes we're tired of salads, sandwiches and smoothies.  So, we tried it for breakfast and LOVED it!  
Spinach waffles you ask? We say, "Try it! You'll like it!"
Let's make these!
2 Eggs
BIG handful of fresh Spinach
1/2 cup/121g. Plain Greek Yogurt
1/4 cup/35g. Coconut Flour (or Oats if you prefer) 
1 T. Stevia (or sweetener of your choice)
1/2 t. Baking Powder
First, crack your eggs into your food processor or blender.  Then, add your BIG handful of spinach.
Blend these up for a minute or two (you may need to use a stomper). As soon as you see that the spinach is broken down, you can add the other ingredients.
Start heating up your waffle maker at this point.
Blend these all together, stopping to scrape the sides once or twice, until all smooth.
Spray your waffle maker with some oil (since we used coconut flour, coconut oil is delicious!)  and pour your batter onto it. Close and let it do the rest! 
Tip: You want it to cook 5 minutes or more. These are pretty soft and will fall apart if not cooked long enough.
Time to plate this up and eat it!  We love to add some unsweetened applesauce or fruit and grated walnuts. A bit of pure maple syrup is great too.  
Honestly, you don't even taste to the spinach, but you sure will reap the benefits by eating it.  Enjoy!
We consider this recipe one serving.  You could split it into two if you are eating it with eggs and bacon or more.
This whole recipe (without toppings) contains,
Cal.                     335
Fat                      16g.
Carbs.                 37.5g.
Sugar                  10.5g,
Protein                 33.5g.