Spinach & Strawberry Summer Salad Recipe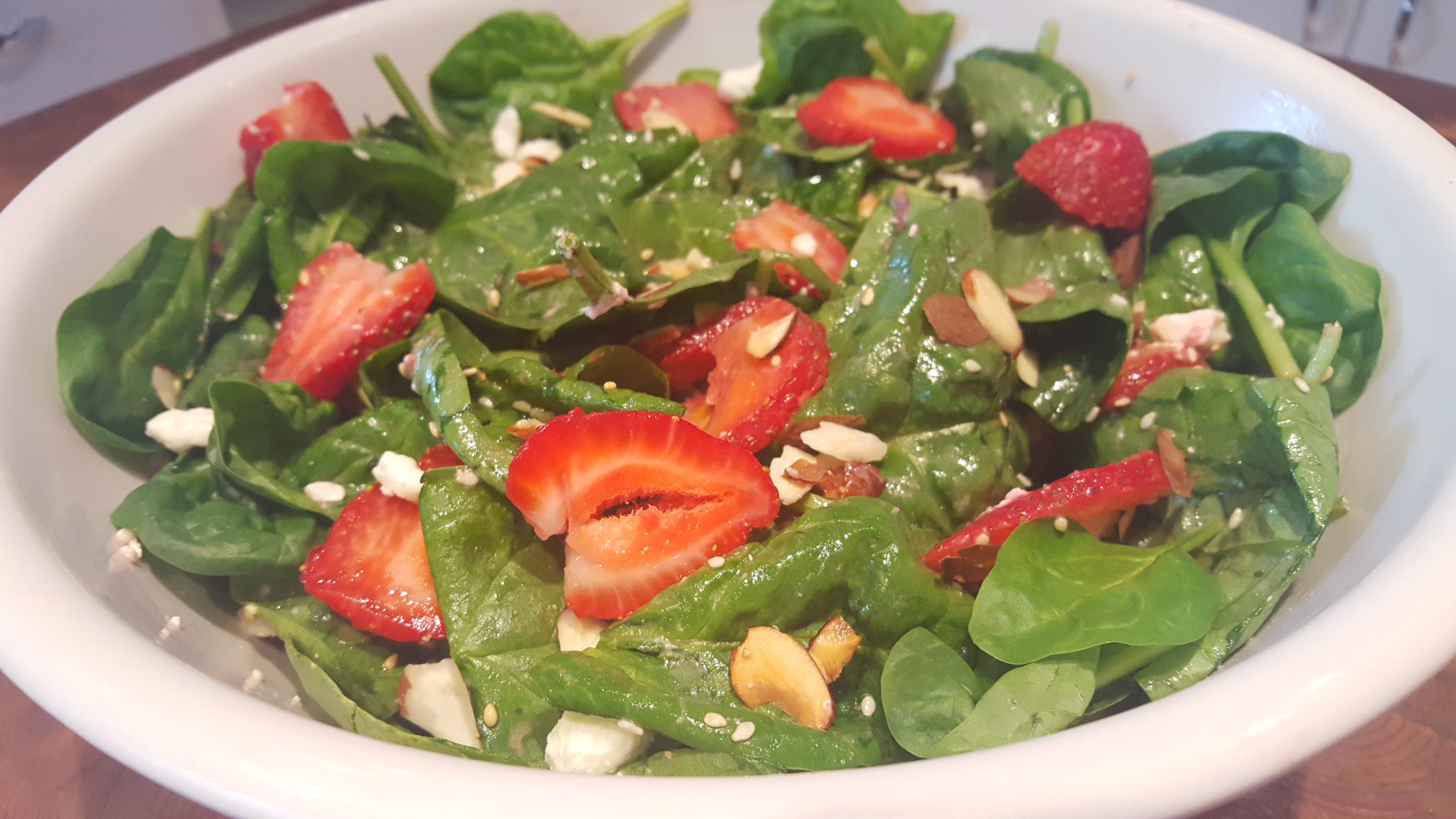 It's that time of year!  Farmers markets, backyard gardens, friends sharing their homegrown bounties.  What to do with all this freshness?  Here is a quick, simple and tasty side salad that only takes minutes to make.
Lets go!
1/3 cup/35g Slivered Almonds (toasted)
1Tablespoon Sesame seeds (toasted)
4 cups/135g Baby Spinach
1 1/2 cups/235g Fresh Strawberries (sliced)
1/3 cup/50g Feta cheese (crumbled)
2 Tablespoons Olive Oil
1 Tablespoon White Balsamic Vinegar
S & P to taste
The first thing you will want to do is put a pan (dry, no oil ) on medium to high heat. Place your slivered almonds in the hot pan and shake and stir for a few minutes. Turn off the heat and add the sesame seeds.
Shake the pan and stir around. If you feel that it is on the verge of burning, remove the pan from the heat.  Once you see they are toasted, pour this into a bowl to cool off.
While this is cooling down, it's a good time to slice up all your strawberries.  You can place your spinach into your serving bowl, as you slice your strawberries, place them on top of the spinach.
 Pour the cooled almonds and sesame seeds in and top it off with the Feta cheese.  Gently mix this all together.
In a separate bowl whisk the olive oil, white balsamic vinegar, salt and pepper. 
You don't want to pour the dressing over it until you are ready to serve. 
That's it!  Time to eat! 
This makes approximately four servings of 1 cup/ 125g each.  Each serving contains,
Calories        177
Fat                14g
Carbs            8.5g
Sugar            3.5g
Protein          5.5g