Spicy Cheesy Chicken Fritters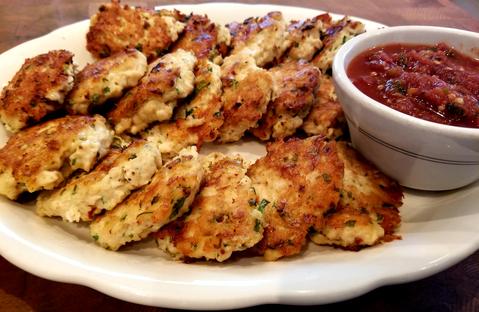 If you've been following us for a while then you know we eat a lot of the same foods.
To make it not so boring, we use the same ingredients but in different ways.
Believe it or not, we DON'T have onion or garlic in today's recipe. Why? Because we have those in our Salsa (you can find our recipe here on our website as well) and today we are serving up these tender but crunchy  Spicy Cheesy Chicken Fritters with our salsa.
The most time consuming part today is probably the clean up. Want to see how easy it is? Well, let's find out!
1 1/2 lbs/692g. Boneless Skinless Chicken Breasts (today we ground ours, but you can dice them up into tiny pieces as well)
1 large Egg
1/8 c./25g. Light Mayonaise
1/4 c./38g. Flour of your choice (today we used Gluten Free)
1/4 c./72g. Pepper Jack Cheese, shredded. (for spice!)
1/4c./3g. Cilantro, chopped.
Salt & Pepper to taste
Crushed Red Pepper (optional)
2 (or more if needed) Tablespoons Avocado oil
The first thing we did today was grind up our two chicken breasts. You can either buy ground Chicken or cut it up into very small pieces.
Once this was done, we added the rest of the ingredients into the same bowl. 
Mix all of this up well. (we use our freshly washed hands). Once it is all mixed together, cover it with plastic and place the bowl into the freezer for 20 to 30 minutes. Doing this, the meat marinates in the flavors and it becomes a little cold and firm to use. 
TIP: Use this time to clean up the mess you've made in the kitchen. :0)
Start heating up your pan on the stove on medium heat. Once it is heated, remove the chicken mixture from the freezer. Drizzle a tablespoon of the Avocado oil onto the pan and then start scooping!
We used a 1 1/2 inch scoop to make the fritters.
Very carefully, place the scoopful of Chicken onto the heated pan. Once you have them in the pan, use the back of the scoop to flatten the fritters just a bit.
Let it cook for 3 or more minutes on the first side. You will actually see the bottom start to brown and the sides turn a little white. It's time to turn them over.
Cook an additional 3 minutes at least. (the inside needs to be completely white)
Place the finished Fritters onto a plate and cover with foil until you have cooked up all of the mixture.
Time to serve them up! 
They can be a snack, "appetizer" or your main dish. 
Crispy on the outside, tender on the inside. A bit spicy but not to much. We hope you try these and enjoy them as much as we do. 
This recipe makes approximately 20 small fritters. We divided it into 4 servings of 5 fritters each.
Each servings contains,
Calories           327
Fat                   17.5g.
Carbs               6.5g.
Protein              34g.