Roasted Jalapeño Molasses Sweet Potatoes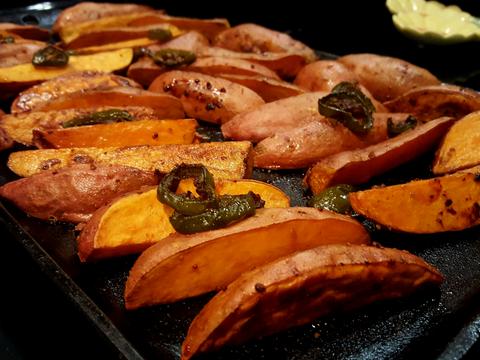 We're coming upon that time of year again.  Time to fire up that oven and start baking. Roasting in this case. Sweet, hot, spicy, delicious. That is how we would describe this recipe. We hope you enjoy it as much as we do.
Let's find out!
2 Tablespoons Olive oil
2 Tablespoons Molasses
2 (heaping) Tablespoons sliced Jalapeños
1 Tablespoon Apple Cider Vinegar
1 teaspoon Stone Ground Mustard
3 medium (or 6 small) Sweet Potatoes (approx. 2 lbs/900g.)
1 teaspoon salt
First, pre-heat your oven and baking sheet to 425 degrees.
While that's pre-heating, we wash the Sweet Potatoes and cut them up into wedges.
Next, we place them on a plate and microwave them for about 5-6 minutes.
While they are in the microwave, whisk your Olive oil, Molasses, Jalapeños, Apple Cider Vinegar and Mustard in a large bowl.
When the potatoes are done in the microwave, carefully place them in the bowl with your mixture. Toss the potatoes and mixture together until all the potatoes are evenly covered. 
By now your oven should be ready.  With hot pads, remove your baking sheet and spread the Sweet Potatoes and Jalopenos in a single layer (there will be some left over liquid, save this to pour over your wedges once they are done roasting). Sprinkle them with a bit of salt before putting them in the oven.
Place your baking sheet back into the oven and bake for 20 to 25 minutes. 
Once done, you can place these onto a large plate and drizzle the remaining liquid over the wedges. 
Time to eat! 
This recipe makes approximately 4 servings of 4oz/125g. each.
Each serving contains:
Cal.                200
Fat                 6g.
Carb.             24g
Sugar            12g
Protein           2.5