Protein Blender Muffins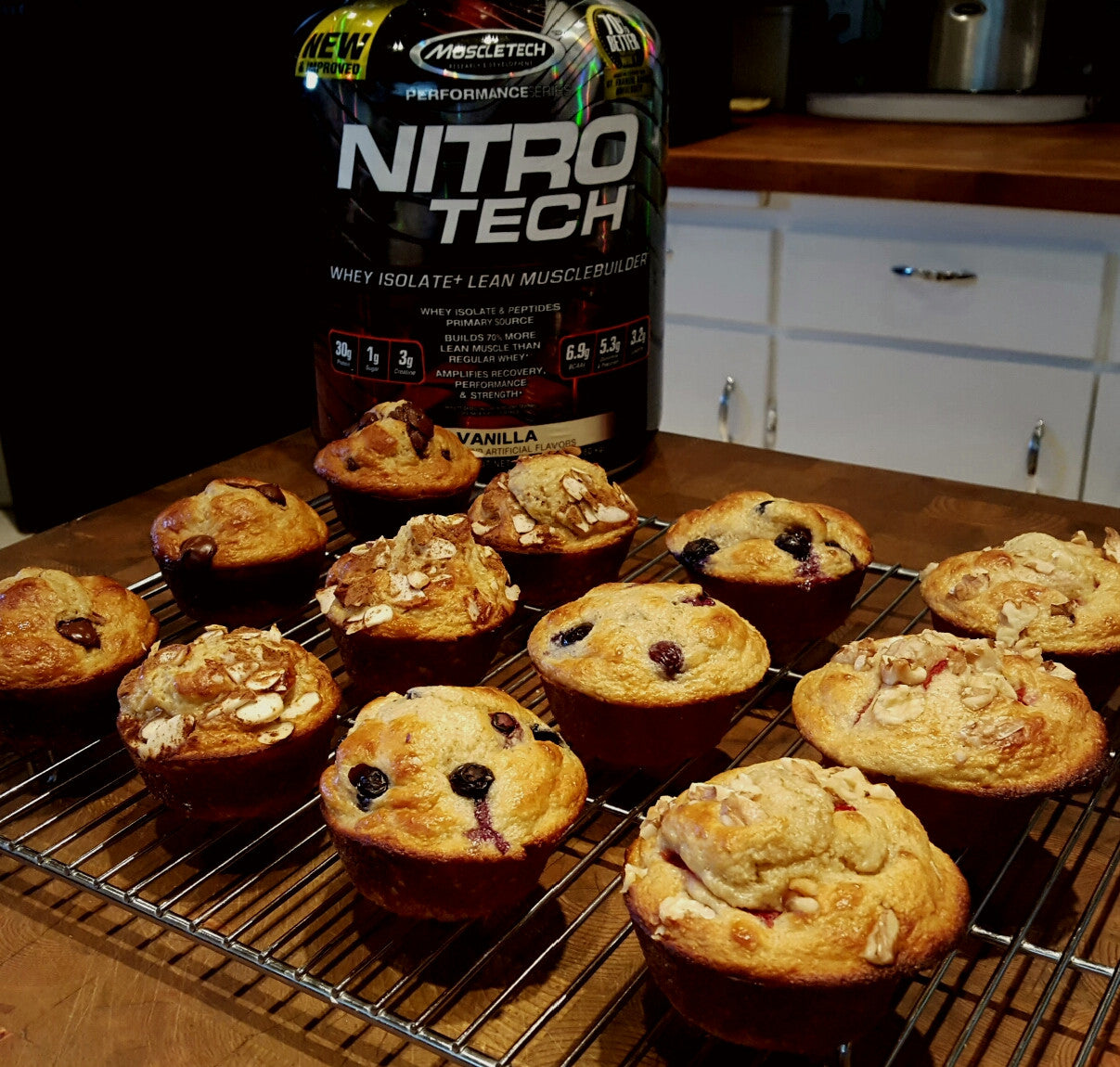 Muffins, muffins, all sorts of muffin recipes out there.  What if you had ONE basic recipe that you can make practically dozens of different muffins with?  Sounds to good to be true? Well, we found it and we want to share it with YOU!  
Here we go!
2 cups/200g Rolled Oats
2 scoops Vanilla Whey Protein Powder
2 (medium) ripe Bananas
2 eggs
1 cup/230g 0% Fat Greek Yogurt
3 Tablespoons Honey (or Agave)
2 teaspoons Baking Powder
1/2 teaspoon Baking Soda
1/2 teaspoon Vanilla Extract
Pinch of Salt
The toppings are limitless.  Today we used,
Strawberries with Walnuts
Blueberries
Slivered Almonds with Cinnamon
Dark (60%) Chocolate chips
The first thing you will want to do is put your Rolled Oats into the blender and blend till it becomes flour. It only takes a couple minutes. 
Then you just add the rest of the ingredients into your blender. We slice the banana to make it easier and quicker to blend.
TIP:  Add the WET ingredients first then the dry. This will make it easier to blend. Speaking from experience :0)
You may want to stop a couple times to scrape the sides.
That's it!  Can you believe it? 
Now, spray your muffin tin ( this makes 12 muffins) with non-stick spray. Or if you want to use the paper/foil muffin liners feel free)
Carefully pour your batter, filling each one up to three quarters full. Then put all your toppings on, pressing  them into the batter.
Bake these for 12 to 15 minutes at 400 degrees.
Insert a toothpick in the middle and pull it out. If it is clean, they are done. If there is sticky batter then bake for a minute to two more.
Pull them out, let them cool in the muffin tin for a few minutes then transfer them to a wire rack if you have one. ( if not, let them cool longer in the tin ) 
These are great for a snack or with your morning coffee or tea. 
Again, you can add anything you want. Grated carrots, zucchini, raspberries, blackberries, raisins and the list goes on.
Enjoy! :0)
This breakdown is for the Muffins only, not including the toppings.
This recipe makes 12 muffins and each muffin contains,
Calories             134
Fat                      2g
Carbs                19.5g
Sugar                 7.5g
Protein               10g