"EVERYTHING" Energy Bites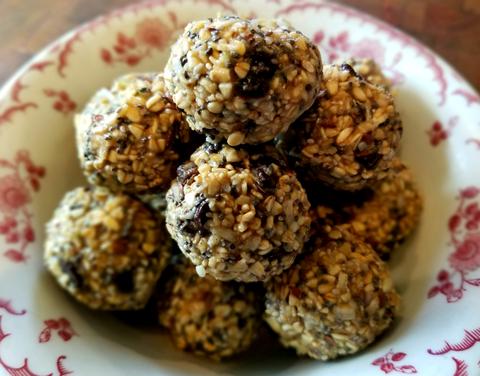 Are you feeling tired and run down? Are you craving something sweet? Something salty? Something crunchy? Something chewy? Can you believe that these little snacks can take care of ALL of those things and more? 
How, you ask?  Well, let's take a moment and find out what is in these little snacks and what the benefits are.
Steel Cut Oats.  What is the difference of these and rolled oats? Well, in a 1/4 cup of each, the Steel Cut has lower calories, 140 verses 160 of the Rolled Oats. Also, they are lower in sugars, 0 g. verses 1 g. That may not be a huge difference, but let us share some additional information.  Rolled Oats are steamed, rolled, steamed again and toasted.  Steel Cut Oats are just coarsely chopped, so they have a lower Glycemic Index ( a measurement that predicts how much a person's blood sugar will spike after eating).  A less processed food is always a better choice.
Chia Seeds.  These tiny little things are FULL of Omega-3 Fatty Acids, Fiber, Antioxidants, Minerals, Satiety ( the feeling of being full and satisfied, which helps lower food cravings between meals). They are gluten-free, can be used as an egg replacement and can play an important role in regulating insulin levels.  Wow! We would call these a Super Food!
Hemp Seeds.  Hemp seeds are rich in healthy fats and essential fatty acids as well.  They are also a great PROTEIN source and contain high amounts of Vitamin E, phosphorus, potassium, sodium, magnesium, calcium, iron and zinc. 
Flaxseeds. Another seed that provides Omega-3 fatty acids (not the same type that fish/salmon does ) but they also help to improve digestion, lowering cholesterol, reducing sugar cravings, balances hormones ( they have an antioxidant substance called Lignans ) and researchers say can even help to fight cancer!
Coconut. You can eat it, drink it or consume it as an oil. Coconut is delicious and nutritious. It's a great source of fiber, vitamins, minerals and amino acids. It has tons of calcium, potassium and magnesium with plenty of electrolytes.
Raisins. Raisins are dehydrated grapes.  In that dehydration process, the nutrients become more concentrated, making a handful of raisins a snack rich in B vitamins, iron and potassium. Plus, they are a good source of carbohydrates for energy. 
Dark Chocolate.  Not milk chocolate, not white chocolate but DARK chocolate. At least 70% or higher levels of cacao. Why? It boasts some of the highest levels of antioxidants of any food. Even higher than blueberries, cranberries and acai berries. Some studies have shown that it can help lower the risk of heart attack and strokes. It helps to lower blood pressure and improve brain function. Sweet huh?
Honey.  Honey helps with weight management and counters Pollen Allergies. It is a natural ENERGY source. Sleep promoter ( I remember when I was young, my mom giving me warm milk with honey if I had troubles going to sleep ) and natural Cough Syrup. These are just a few benefits.
Peanut Butter.  A quick rundown of some of the benefits of Peanuts or peanut butter.  One serving has 3 mg of the powerful antioxidant vitamin E, 49 mg of bone-building magnesium, 208 mg of muscle-friendly potassium and .17 mg of immunity-boosting vitamin B6. It can help decrease your risk of heart disease, diabetes and other chronic health conditions. 
Now, lets put EVERYTHING into these little ENERGY BITES  and eat some!
1 cup/155g. Steel Cut Oats 
3 Tablespoons Chia Seeds
1 Tablespoon Hemp Seeds
1 Tablespoon Flaxseeds
2 T. Shredded Coconut
1/4 cup/30g. Raisins (chopped)
2 Tablespoons Dark Chocolate chips 
1/2 teaspoon salt
1/4 cup/65g. Honey
1/2 cup/120g. Natural Peanut Butter
You will need one large mixing bowl (for the dry ingredients) and one small one (for the wet). A pan, parchment paper and we used some coconut spray.
First, you will want to measure out your 1/4 cup of raisins, place them onto a cutting board and chop them up.
When you are done chopping them, place them into the bowl with the rest of  your dry ingredients.
Mix these up well. You want to make sure all the ingredients are distributed, especially the salt.
In your small bowl, combine your peanut butter and honey and whip it together.
Once the peanut butter and honey is blended together and creamy, you can pour it over the dry ingredients and mix it up.
Now, we lined our pan with the parchment paper and sprayed it a bit with the Coconut oil.  (you can also spray your hands so the batter doesn't stick so bad)
We have a 1 1/2 inch scoop that makes the perfect size. Each little ball ends up approximately .90oz/25g.
Scoop the dough and place it into one of your hands. Pull your fingers and thumb together over it and press until you are able to roll it. Repeat over and over until you have all the dough made into balls.
When you have them all done (you should have 18), place your pan into the freezer for at least an hour. 
Time to pull them out and enjoy these EVERYTHING Energy Bites! 
Sweet but salty. Chewy with LOTS of crunch. Satisfying and healthy.
You can store them in an airtight container in your fridge for up to a week. Realistically, they won't last that long. ;0)
We get 18 balls and broke it down to 9 servings of 2 each.
Each serving ( 2 ) contains,
Calories                    118
Fat                             12g.
Carb.                          30g.
Protein                        8g.