Peanut Butter Low Carb Cloud Cookies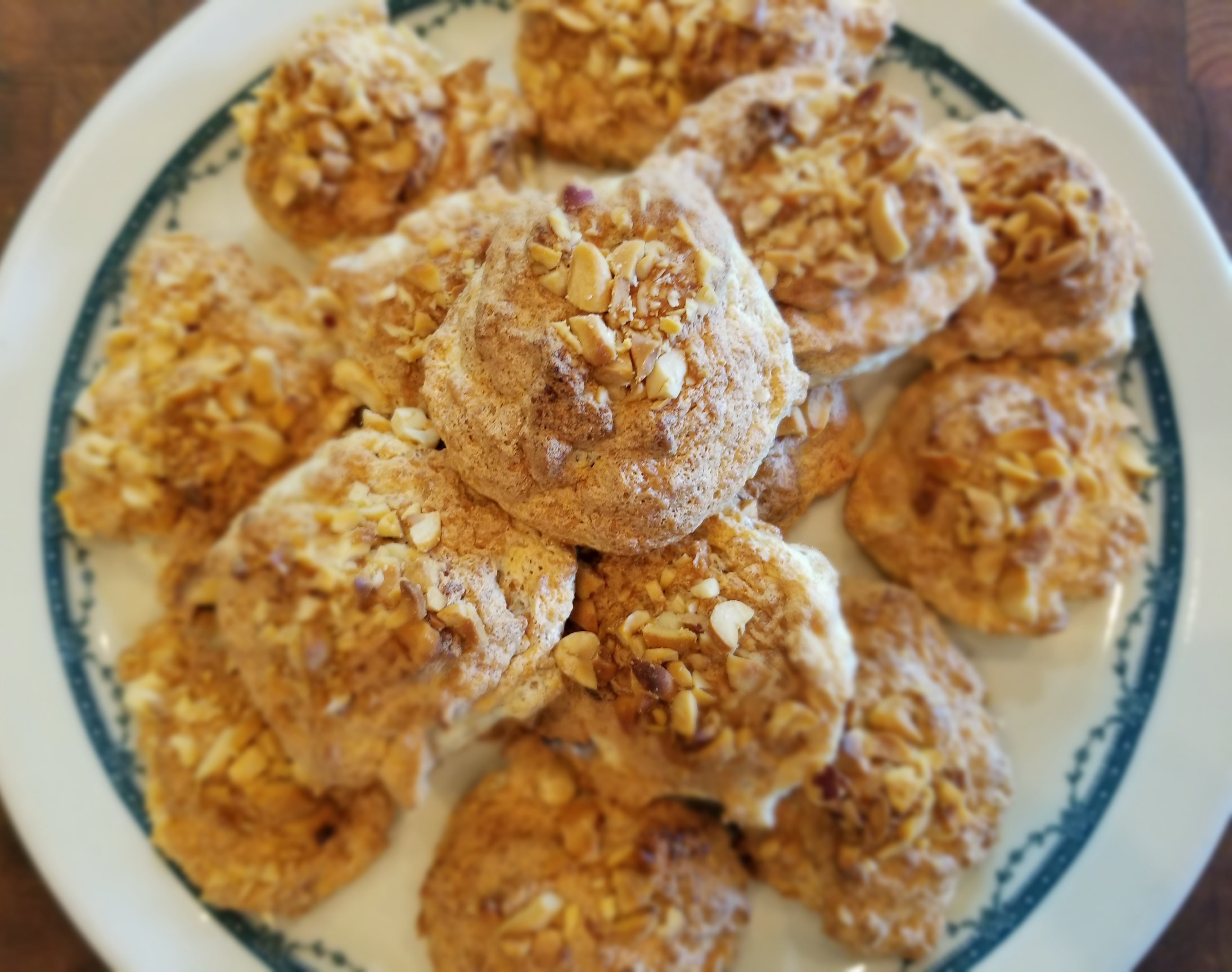 We're BACK!!  
We've got some tasty recipes to share and we hope you like them.
With only FOUR ingredients and maybe 20 minutes of your time, this recipe is a win win in our opinion.  
These are so easy and light. It satisfies your sweet tooth without any guilt afterwards. 
There's really not much else to say except, let's do this!
3 Large Egg Whites (at room temperature)
1/4c./45g. Monkfruit (or sweetener of your choice)
1/3c./78g Creamy Peanut Butter
1/4c./28g. Whole Salted Peanuts (chopped for topping)
The first thing you will want to do is start your oven pre-heating to 375 Fahrenheit (190 Celsius).
Now, you will want to separate your egg yolks from the whites. Place the egg whites into your mixing bowl (either a stand mixer or handheld mixer). On high speed, mix up the egg whites until they start to become frothy. This takes just over a minute.  As it is mixing, slowly pour in your Sweetener and keep mixing. 
Once you see the egg white mixture start to stand up on its own, it's done.  This so far has taken maybe 4 minutes total?
You will want to make sure you clean off your egg beater and get as much of the whipped eggs back into your bowl as you can.  
Time for the Creamy Peanut Butter! 
Drop little portions of it onto the whipped egg whites.  You will NOT want to mix it up quickly. You want to keep as much air in it as possible.  Just scrap around the bowl and fold it over the eggs. Scrap and fold, scrap and fold.
As soon as you don't see any large chunks of the Peanut Butter and it looks a bit marbly, you are done! This part took maybe 2 minutes?
 Cover your baking sheet with some parchment paper and have your chopped Peanuts ready.
You can use a spoon and your finger, two spoons or if you have a little scooper like ours, it works perfect.
Scoop out your cookies and place on the parchment paper. Then, sprinkle the chopped Peanuts on the top of each one.
Now, pop them into your pre-heated oven for 10 - 12 minutes. It depends on your oven and elevation, you want to keep an eye on them so they don't burn on the top.
Once they are golden in color, remove them from the oven and let them cool for several minutes (they will firm up more as they cool)
Plate them up and grab a few!! Why? Because as soon as anyone else in your household smells them coming out of the oven, they'll be gone before you know it!
Enjoy....Stay Safe....Stay BUFF!!
We got 15 cookies out of this recipe. Each serving is ONE cookie.
Each serving contains,
Calories                      66

Fat                              5.3g.

Carbs                          5.8g.

Sugar                          3.6g.

Protein                        3.9g.