Cream of Broccoli & Spinach Soup Recipe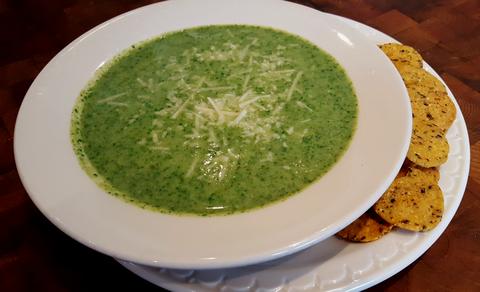 Broccoli and Spinach Soup. Sound appetizing? If you answered yes then you're in for a treat. If you answered no then give this recipe a chance, it's sure to change your mind!
One of our favorite go-to soup recipes, this Broccoli and Spinach soup recipe is not only easy to make, it's PACKED full of vitamins and minerals. Let's find out what's inside the soup!
Broccoli is a great source of fiber and vitamin C. Vitamin C builds collagen, which forms body tissue and bone, and helps cuts and wounds heal. It is also a powerful antioxidant and protects the body from damaging free radicals.
Spinach has an extremely high nutritional value and is rich is antioxidants. Cooked spinach provides higher levels of vitamin A than its raw counterpart. 
It's always good to know what you are eating and how it is beneficial to you.  We also like the idea that putting these two super foods together with a few other ingredients can taste so good!  
You'll be eating this bowl of yumminess in about 30 minutes.  Ready? Lets go!
1 small Yellow Onion
4-5 cloves of Garlic
1T. oil
4c. / 1000 ml Broth of your choice ( we used low sodium Chicken )
5-6c./875g. Chopped Broccoli
2Tablespoons Tahini ( sesame paste )
1/3c./30g. shredded Parmesan cheese
5-6c./1125g. Spinach
First, you want to make sure to rinse your Broccoli and Spinach well.
Next, coarsely chop your onion and garlic.  Sautee the onion and garlic in the tablespoon of oil over medium heat.  After a few minutes the onions should start looking iridescent. 
At this time, you can carefully pour your broth into the pot. Mix well and bring this to a low boil.
Now it is time to add the broccoli.  Stir and press so all the broccoli is covered.  Lower the heat and simmer with the lid on for 5-10 minutes. You want the broccoli to be fork tender.
Turn off the heat and add the Tahini and the Parmesan cheese.  Stir until they are dissolved.  
Add the spinach.  At first it might look like too much, but it will shrink down as it wilts.
Once all the spinach is wilted and cooked from the hot broth, it is time to blend.
You can carefully blend a couple of cups at a time in a blender. Or, if you have a hand held ( infusion blender ) this works the easiest right in your pot.
Blend and it's done!  
We like to sprinkle a bit more parmesan cheese over our individual bowls when we serve it up.
Time to eat!  
This recipe yields approximately 5 servings of 1 1/2c./385g. each.
Each serving contains,
Calories               124
Fat                        8g.
Carbs                    7g.
Protein                  6g.
We hope you give this a try and enjoy it as much as we do.