Coconut Curry Chicken Slow Cooker Recipe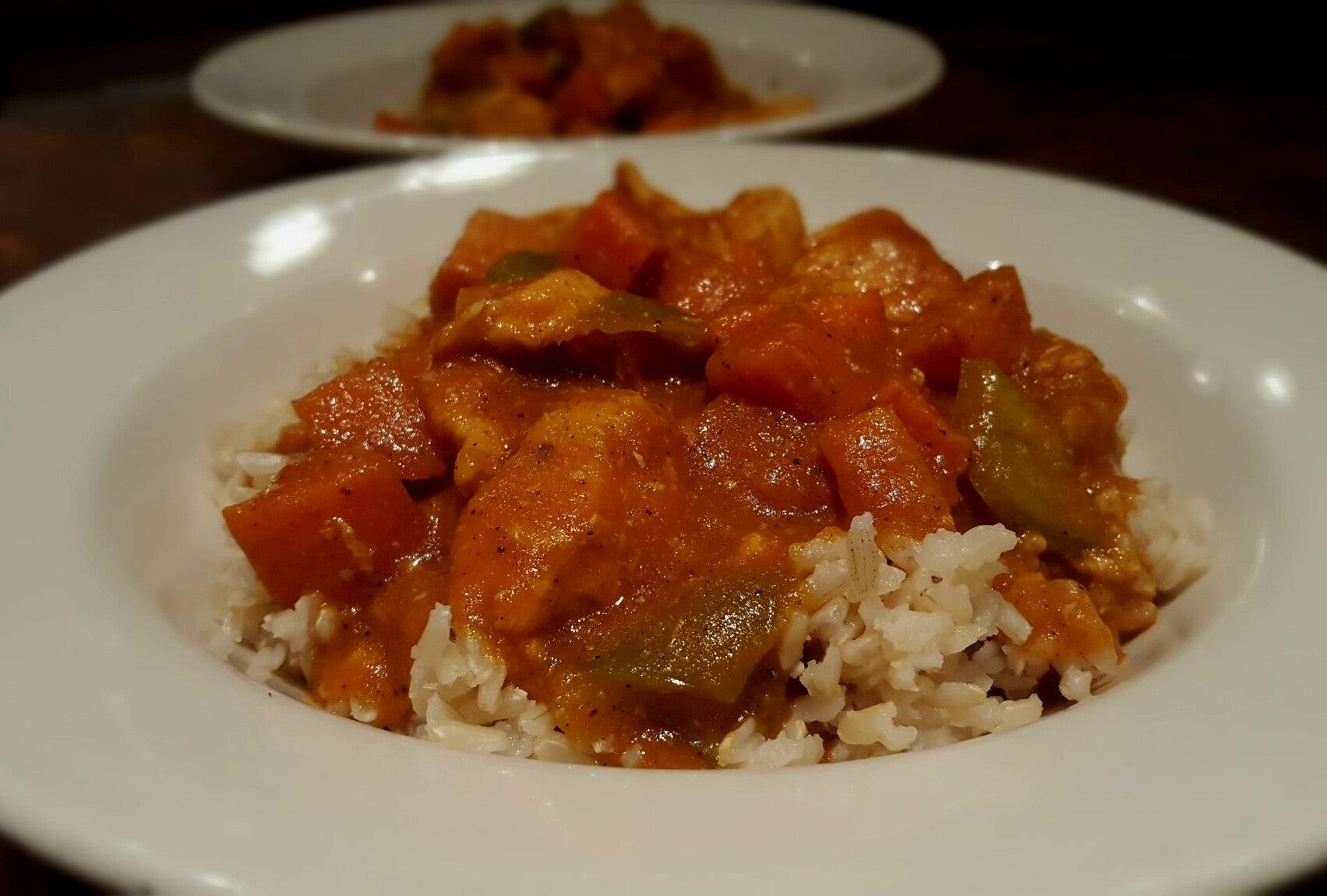 The Slow Cooker is one of our best friends. It sure makes our life a little easier.  This Coconut Curry Chicken recipe is easy as well. Most importantly, it tastes delicious! With those two words, easy and delicious, how could you NOT want to try this? You do? Ok then, lets make this!
2 lbs./ 965g. ( we used 16 tenderloins ) boneless skinless Chicken. Cut into bite size portions.
5-6 carrots (we scrub ours and don't peel them) diced.
1 large green bell pepper. Seeded and cut into bite size portions.
1 medium yellow onion. Peeled and quartered.
4-6 (or more if you like) cloves of garlic. Peeled.
1 6oz/ 170g. can tomato paste.
1 13.5oz/ 400 ml coconut milk.
1 1/2 t. salt
1 T. curry pdr.
1 T. garam masala
2 jalapeno peppers. Seeded.
2 T. water
1 1/2 T. cornstarch. (we used Tapioca flour)
The first thing we do is wipe a bit of coconut oil onto the bottom and sides of our slow cooker.
Next, we place the diced chicken, carrots and green bell peppers into the slow cooker.
Now, we take out our blender ( or food processor ) and put our onion, garlic, tomato paste, coconut milk, salt, curry pdr. garam masala seasoning and jalapenos into the blender.  Blend on high until you get a creamy consistency.  
Once it is completely combined and creamy you will add this to the slow cooker and mix well.
Now, you just cover it, turn it onto low for 6 hours and walk away.  Oh wait, that's NOT all.  In a few hours, your kitchen will be smelling SO AWESOME that you will hardly believe it. 
About 30 minutes before your time is up, you will want to mix that 2 T. of water with the 1 1/2 T. cornstarch (or tapioca flour) and pour that into the slow cooker. Mix well and place the lid back on. This is to thicken it up a bit.
Now all you have to do is serve it up!
We ate it over some brown rice this time. You could also eat it with potatoes, bread, spaghetti squash, zucchini noodles, what ever sounds good to you.
Hope you enjoy this recipe.  
This recipe yields approximately 8 servings of 1 heaping cup/275g. 
Each serving (without rice) contains,
Calories                 268
Fat                         9.5g.
Carbs                    13g.
Sugar                     6g.
Protein                   28.5g.