Chicken Stew - Slow Cooker Recipe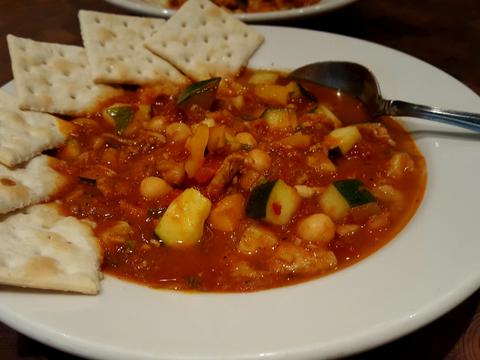 There is a little more to this recipe than just throwing everything in the Slow Cooker. Believe us, it is well worth the 30 minutes of prep time. Not only do we like this recipe because it tastes so good but also because we usually have ALL the ingredients on hand. This also makes a great Sunday Food Prep Meal. 
Ready? Let's make this!
1teaspoon of Olive oil & Butter
One whole Onion ( diced )
2 Tablespoons of fresh Ginger & Garlic ( minced )
1 Tablespoon Tomato paste
2 teaspoons of ground Cumin, Coriander, Turmeric & Chili powder
1 teaspoon Red Pepper flakes
1 1/2 lbs/680g. Boneless, Skinless Chicken thighs ( trimmed of fat, cubed & seasoned with salt & pepper )
1 14.5oz/411g. can of Diced Tomatoes ( with juice )
1/2c. Chicken broth ( low sodium )
1 c./255g. Zucchini ( diced )
1 Yellow Bell Pepper ( or 6 baby, seeded & diced )
1 14.5oz/425g. can of Chickpeas ( drained & rinsed )
1/4 c./8g. Cilantro ( chopped )
2 Tablespoon Lemon Juice
We first cut, dice and open everything up before we start to cook. This way, once we start, it goes quickly.
Now, in a large pan, melt your butter with the olive oil over medium heat. Once it's melted and combined, add the onions, garlic, ginger, cumin, coriander, turmeric, chili powder, pepper flakes and tomato paste. 
Mix and stir for a few minutes. Then add the chicken. Stir and cook for about 5 minutes. Just until the chicken is not pink anymore.
Time to stir in the diced tomatoes and chicken broth. Stir and mix and scrap the pan. Transfer this to your Slow cooker, cover and set to high for 3 1/2 hours.
When the 3 1/2 hours is up, stir in your diced zucchini, chopped bell pepper, chickpeas, cilantro, lemon juice and some salt & pepper to taste. Turn your slow cooker to warm. Leave it for about 30 minutes. You don't want the zucchini, bell peppers or chick peas to get to soft. 
You are done!
Ready to serve it up with some biscuits, bread, rolls or crackers. :0)
This recipe makes approximately 4 servings of 1 1/2 - 2 cups each.
Each serving contains:
Cal.              359
Fat               12g.
Carb.            28g
Protein          32g.