Chicken Fajita Slow Cooker Recipe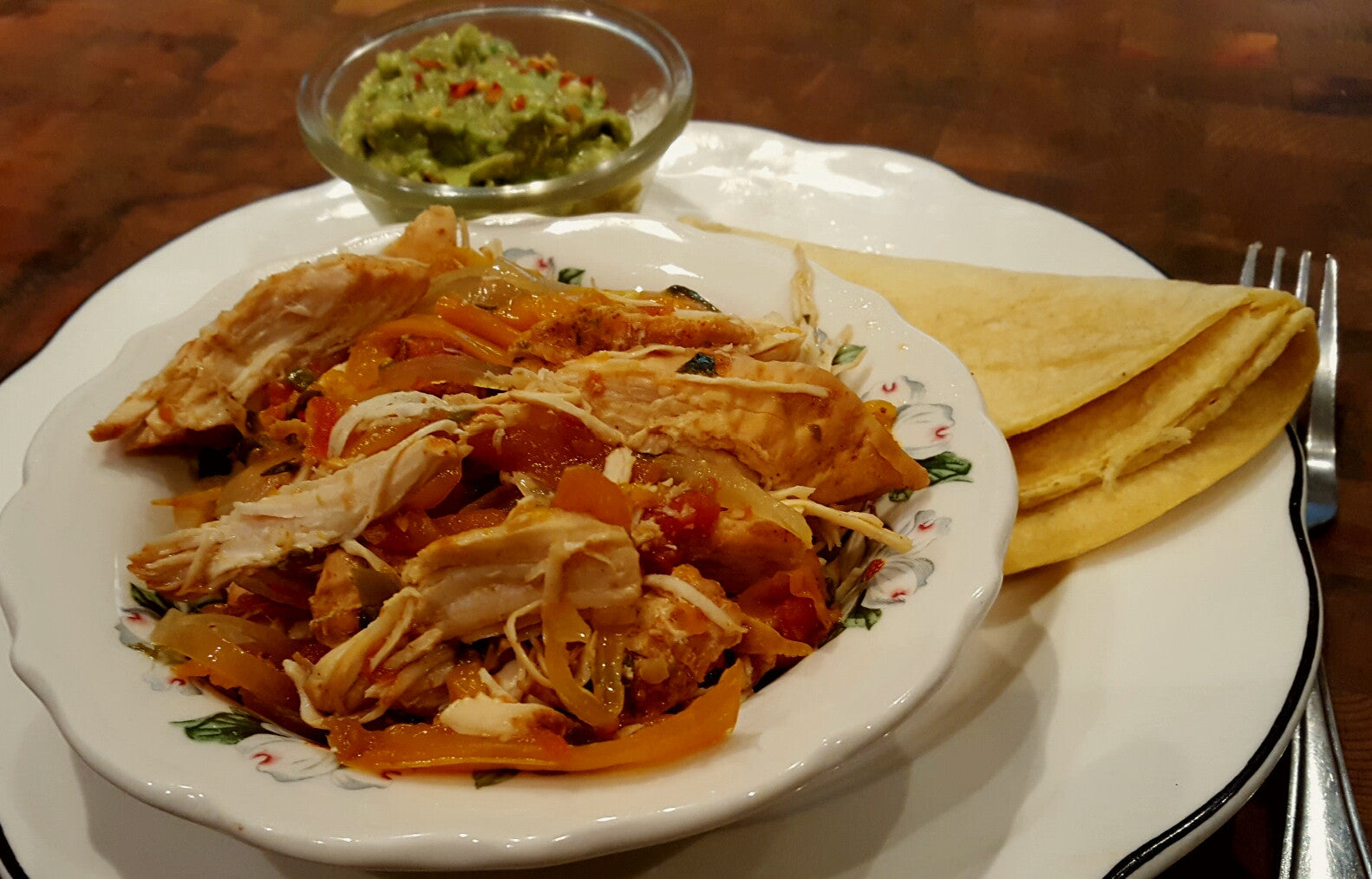 We LOVE our Slow Cooker.  We LOVE chicken.  We LOVE them together! A few ingredients, a few minutes of prep time and a few hours later a whole LOT of flavorful food ready to devour. This is how easy it is....
3 Large Boneless/Skinless Chicken breasts (cut in half)
1 Red, Yellow and Green Bell pepper. (we used Baby Sweet Peppers this time because we had them on hand) Sliced, approx. 4c/378g.
1 Large Yellow Onion
3 Tablespoons Taco Seasoning
4-6 Garlic cloves (minced)
Handful of Cilantro (chopped)
2-3 Fresh Peppers (de-seeded and chopped)
1 Lime (juiced)
2 cans 10oz/280g Diced Tomatoes with Green Chiles (drain well!)
First, you want to sprinkle the Taco seasoning all over the chicken and rub it in. Now set those aside while you prepare the other ingredients.  
Cut up the peppers length wise as well as your onion.  We mince the garlic into a small bowl so we don't lose any of that wonderful juice. Remove the seeds from your peppers and finely chop.
(DON'T touch your eyes afterward! Speaking from experience)
Coarsely chop up the Cilantro. Cut the lime in half and juice that into a small bowl. (unless you have a handy Vintage juicer like ours!) Open your cans of tomatoes and drain these very well. (There will be natural juices from the veggies and chicken by the time it's done cooking)
That's it!
Time to put it all in the slow cooker. We put half of the onions and peppers, and all of the cilantro and garlic first.
 Then lay the Chicken onto that.
Pour the tomatoes over the chicken and add the lime juice at this point. Now add the other half of the onions and peppers on top. 
Place the cover on and set it for either 4 hours on High or 8 hours on Low.
Once it's done, remove the chicken, slice it up and place it back in the slow cooker. 
Time to serve it up! ( we heated up some corn tortillas and had it with some of our homemade Guacamole )
We divided this recipe into four servings of 2c/375g each.
Each serving contains ( NOT including the tortillas or guacamole), 
Calories                 268
Fat                         3.5g
Carbs                    13g
Sugar                     4g
Protein                   42g
Enjoy!