Chicken and Cabbage Soup - Easy Recipe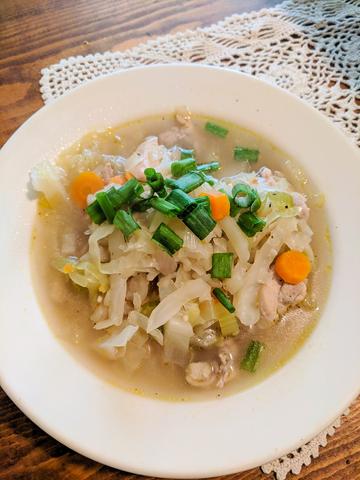 Did you know that cabbage is in the same family as broccoli, cauliflower and kale? It's LOADED with vitamins and minerals. Here is a list of some,
Fiber, Vitamins K, C, A and B6, Folate, Manganese, Calcium, Potassium and Magnesium. Also, Iron and Riboflavin and powerful antioxidants. 
Low in calories, high in nutrition, why wouldn't you want to add cabbage to your regular meal plans?
Here we are, entering Fall with a super tasty and filling soup that we just can't get enough of.  
It's affordable and easy to make.
It's a great recipe you may want to add to your Sunday Food Prep for the upcoming week. Would you like to try it?  Well, lets do this!
1 1/2 pounds/681g. Boneless Skinless Chicken (cut into bite size portions)
2c/473ml Chicken Broth (plus 4c/946ml water)
1 whole Cabbage (medium to large, chopped into bite size portions)
1/2 an Onion (diced)
4 Celery stalks (chopped)
3-4 Carrots (chopped)
Chives or Green Onion (diced for garnishment)
1 Tablespoon Olive Oil (or oil of your choice)
Garlic powder
Salt & Pepper
First, you will want to dice your onion and carrots. 
Then, turn your stove on to a medium setting, add your oil first and place the onions and carrots into the pot. Stir it around a few times as it cooks. 
While those are cooking, you can chop your celery and cabbage. 
Just as the onions are turning translucent, you can add the Chicken broth and water. Bring this to a boil.  Now, add the celery and cabbage and stir it all together.  (You may need to turn the temperature down to medium low.)  Cover and let it simmer for about 15 minutes.
Meanwhile, you can chop up the chicken. 
Once the 15 minutes is up, carefully lift the lid and add the chicken and your seasonings. (The amounts are up to you and your tastebuds)  Cover and simmer another 15 to 20 minutes.
That's it! You can taste it to see if you need any additional seasoning or if it's to your liking, time to serve it up!
Once you have it in your bowls, now you can sprinkle the chopped chives or green onions.
Time to Eat! :0)
The breakdown below is for the FULL recipe. You can divide it into any size servings you want :0)
Calories                 1,170
Fat                            32g.
Carbs                       92g.
Fiber                        35g.
Sugar                       52g.
Protein                   138g.