Cheesy Broccoli Bacon Tots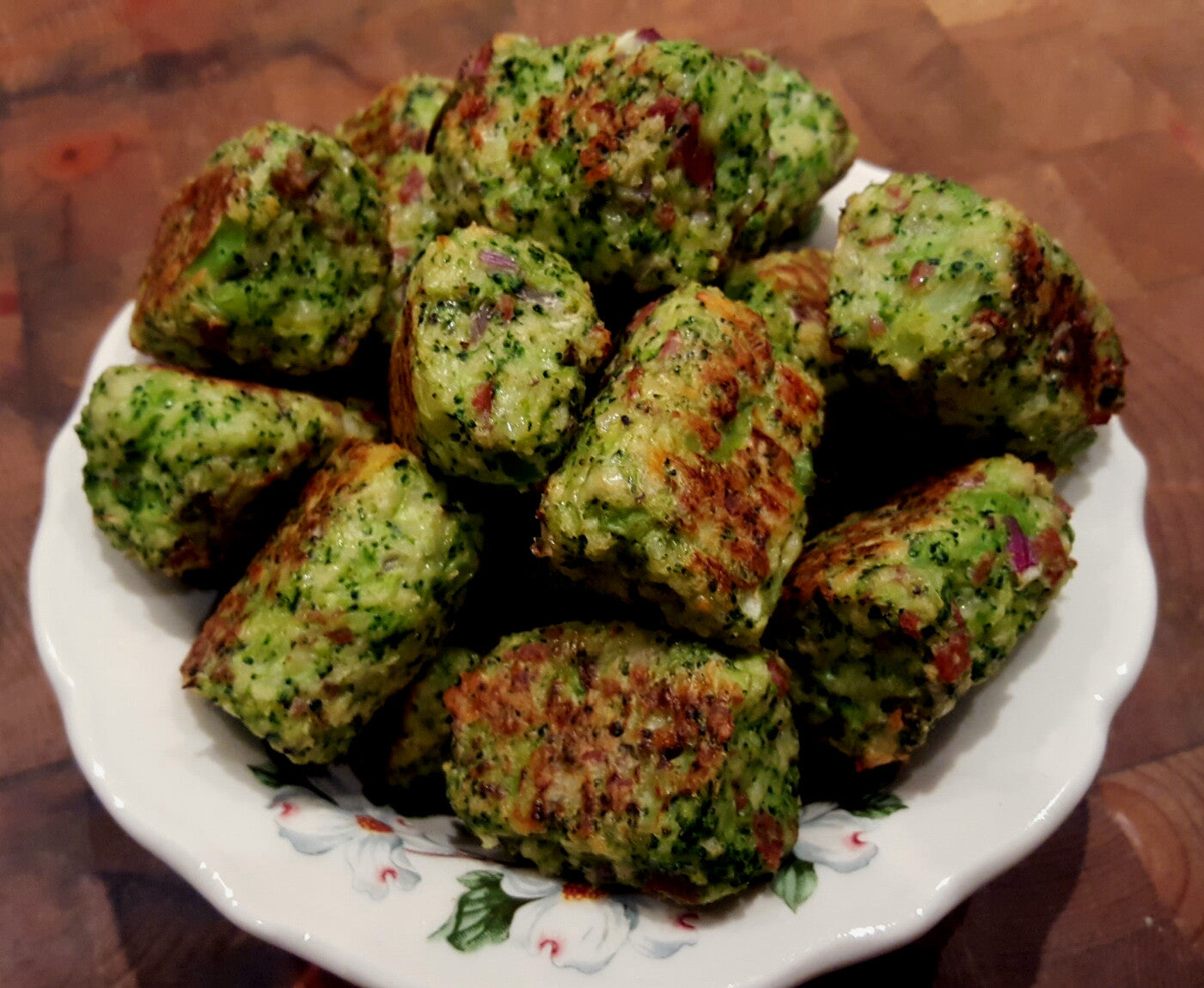 Do you feel like having tator tots with that burger?  What? 45% fat, 50% carbs with only 5% protein? Forget that! Instead, you'll WANT to make these Cheesy Broccoli Bacon tots. Less fat, less carbs and MORE protein. Plus, they taste delicious!
Let's make them now!
2 c./298g. Broccoli ( steamed and finely diced )
1/4 c./26g. Onion ( finely diced )
2 strips Turkey Bacon ( cooked and finely diced )
1/3c./25g. shredded Parmesan Cheese
1/2c./30g. Panko bread crumbs
2 whole eggs
S & P to taste ( we add about 1 t. salt & 1/2 t. pepper )
First, you need to cook your bacon and steam your broccoli.  Once the bacon is cooked and crispy, let it cool. When the broccoli is soft all the way through, strain all the water out and let it cool. 
Pre heat your oven to 400 degrees.
Dice up your onion, broccoli and bacon.  Add all your ingredients into a mixing bowl.
With clean hands ( or you can use a spoon if you choose ) mix everything together until well combined.
Line your baking sheet with some parchment paper ( to help make cleanup easier ) Put a scoop, or a heaping tablespoon size amount of mixture into your palm and roll and shape it into a tot.
Bake these for 10 minutes, carefully flip them over and bake an additional 10 minutes.
That's it!  We think you'll be amazed at how good these are and how often you may want to make them. 
Enjoy!
This recipe yields approximately 18 plump tots.  We broke it down to 3 servings of 6 tots each.  
Each serving contains,
Calories                    180
Fat                             8g.
Carbs                        11.5g.
Sugar                        1.5g.
Protein                      15.5g.