Cauliflower Tots Recipe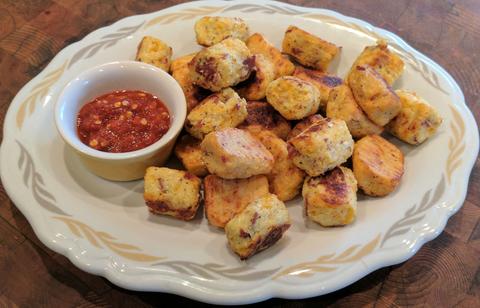 Healthy Cauliflower Tots Recipe!
Approximately 4 Cups (500g) of Rice Cauliflower (About 1 Small Head)
1 lightly packed cup (60g) of shredded cheddar cheese
2 Eggs
1/4 Cup (40g) Cornmeal
1 teaspoon Salt
1/2 teaspoon Pepper (or a good grinds or shakes)
1/4 Cup (30g) Bacon Bits (We used 2 slices of Turkey Bacon)
First go ahead and chop the cauliflower into smaller pieces.
Place these into your food processor and turn it on. It should only take a minute or two for it all to become rice like.
Next lay out a clean kitchen towel on the counter. Pour all the cauliflower onto the towel in a pile. Pull the corners and sides of the towel straight up and start to twist it over a sink or bowl. You'll want to twist it harder and harder to squeeze as much of the liquid out as possible. (This is where being BUFF comes in handy)
Place the dried out cauliflower into a clean and dry bowl.
Now add 1 cup of shredded cheddar cheese, 1/4 cup cornmeal, 1/4 cup bacon bits, 1 teaspoon salt and a few shakes of pepper. Mix these up until it is all blended together. Next crack 2 eggs over the mixture.
You can use a spoon or if your hands are clean, mix this all up until it is all combined.
Place some parchment paper onto your baking sheet.
Take your little scoop and scoop out equal portions and place them onto your baking sheet. After you have used up the whole batch, form them into tater tot shapes.
Now pop them into your 400 degree PREHEATED oven for 20-25 minutes.
TIP: You can flip them over after 10 minutes to help crisp them on all sides.
Enjoy!
One batch makes about 24 tots. 
Each tot contains:
Calories: 25
Fat: 1g
Carbs: 2g
Sugar: 1/2g
Protein: 2g