Cauliflower Bread Basic Recipe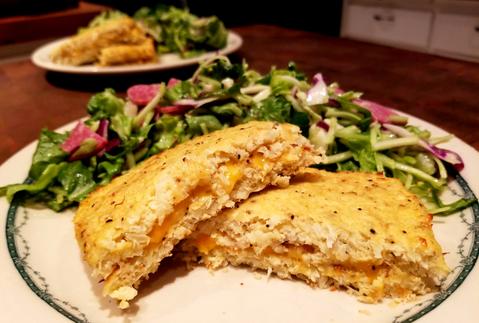 Cauliflower.  Who knew that you could use it in place of so many things? Here is a sweet option if you are unable to have gluten. With every bite, you will realize it was worth the extra time to make it. How much time?  Lets find out now!
1 large 6-7" diameter/ 840g. Cauliflower
2 large eggs 
1/2 c./40g. Parmesan cheese (shredded)
1/4 teaspoon Salt and Pepper
Things you will need:
Clean kitchen towel
Parchment paper
oil or non-stick spray
First, you will want to wash and dry off your cauliflower.  Then, carefully cut out the stem and any leaves.  Now you want to cut it into small enough pieces to fit into your food processor (if you don't have one, you can use a box grater or a mandolin shredder).  
You want the cauliflower to resemble "rice". 
Once you have the right consistency, place the cauliflower into a microwave safe bowl.
At this time, you want to pre-heat your oven to 450 degrees fahrenheit.
Cook for up to 10 minutes, stopping every 2 minutes to stir it around. When it is all soft, with a towel or hot pads, remove the bowl from the microwave.  We like to pour it onto our clean kitchen cloth (that we will use to squeeze all the liquid out) and spread it out to cool down for several minutes.
When it is cool enough to handle, pull up the corners of the towel and then the rest that is hanging down. Over the sink, start to twist, then twist and twist some more.  Come on, use those BUFF muscles! Try to twist until there are no or just a few drops left.
Your cauliflower should look like this. Place it into a large mixing bowl.
In a smaller one, crack your eggs (yes the picture only shows one, sorry) and whip them up.  Add the cheese, salt and pepper and pour your eggs over the cauliflower and mix it up.
Place some parchment paper onto your baking sheet and spray or spread a bit of oil.
Divide the mixture into 5 or 6 portions. Place those onto the sheet and form them into "bread" slices.
Bake them for 15 to 18 minutes. They should be golden brown and firm to the touch. Let them cool for just a minute or two.
NOTE: They held up well, did NOT crumble or fall apart.
That's it! Time to make your sandwiches! Today, we placed the first slice onto our plate. Sprinkled a bit of shredded cheese and placed the other slice on top. Because they were both still warm, it melted the cheese in the middle. The options are endless. You can use any spices or herbs of your choice. 
Hope you enjoy these as much as we do!
Depending on the size of your cauliflower, this usually makes 5 to 6 slices. Today we made 5.
Each slice (without toppings) contains:
Cal.                118
Fat                  4.4g.
Carb.               9.5g.
Sugar              4g.
Protein            8.5g.