Cashew Cream - Dairy Free Recipe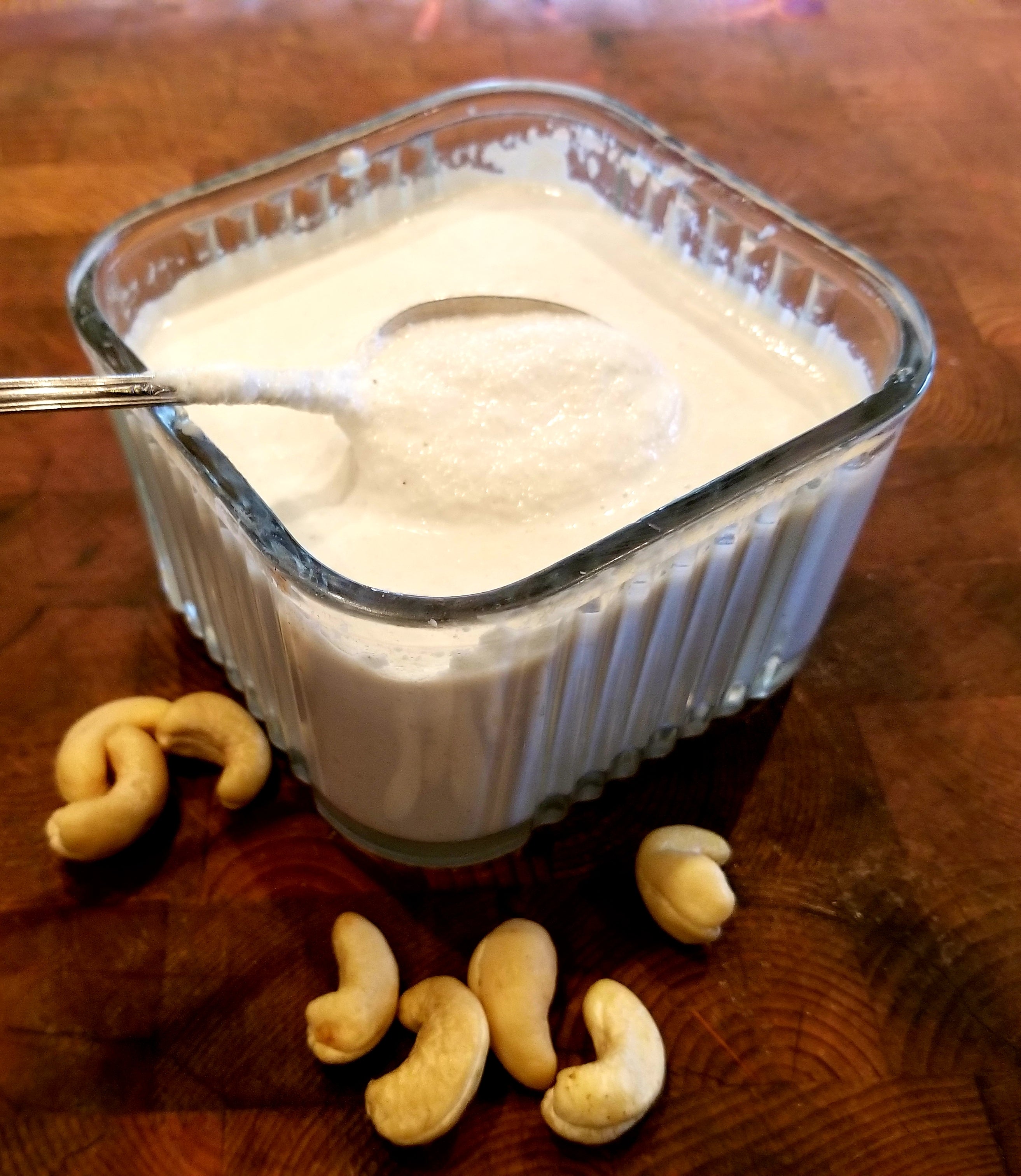 Hi there!
You may or may not know that we have been testing out some different types of diets lately. So far, Intermittent Fasting and also the Keto diet (you can check out our "separate experience" videos on our main YouTube channel). 
Next, we will be trying out being Vegan for a month. With that in mind, we have a super simple recipe today.  One that we will be sure to be using a lot this month.
Cashew Cream (or, if you use less water, it can be like a cream cheese).  
We will be using this in recipes like, pasta sauces, soups, sandwich spreads, salad dressings and fruit dips. 
Depending on what you are adding it to, you could flavor it with things like,
Lemon juice, minced garlic, paprika, onion powder, vanilla extract, maple syrup, cinnamon or ginger.  Really, anything that you want according to what you are using it for.
How simple is it?  Well, let's get started and find out!
1 c./125g. Raw Cashew nuts (soaked)
1/2 - 3/4 c./ 125-175ml water
1/4 t. salt
(This is actually the hardest part, remembering to soak your cashews)
The reason for soaking the cashews is that you are breaking down the phytic acid so it can be absorbed properly. What is phytic acid you ask? 
Phytic acid is a unique natural substance found in plant seeds. It has received considerable attention due to its effects on mineral absorption.It impairs the absorption of iron, zinc and calcium and may promote mineral deficiencies. Therefore, it is often referred to as an anti-nutrient.
Nuts also have high amounts of enzymes inhibitors which is why un-soaked nuts may be hard to digest. Soaking them can neutralize the enzymes which in turn allows for proper digestion.
So, now you know why you should soak them, let's find out how.
Place the cashews in a bowl and cover with water by an inch. You can cover them with a cloth and let them soak at room temperature up to 4 hours, or put them in the fridge for overnight.  If you are in a hurry, you can even soak them in hot (not boiling) water for 15 minutes. 
Drain and rinse.
Now, you just place the cashews with 1/2c./125ml of the water and the salt.
Start blending! 
You may add the additional water if you want it thinner.  Also, you may want to stop once or twice to scape the sides of your blender or food processor. 
It will only take a few minutes.  Blend until you get a nice creamy consistency.
That's it!  How simple was that?  Now you can add those savory or sweet flavorings mentioned above to go along with any recipe you are using this for.
You can store this in an airtight container in the fridge for up to 5 days. Or, you can freeze it for up to 6 months. If you do freeze it, when it's thawed, blend it for a minute or two to bring back that creaminess. 
 Thanks for stopping by and hope you make and enjoy this recipe!
This whole recipe contains,
Cal.          1200
Fat             96g.
Carb.         64g.
Sugars      16g.
Protein      40g.