Broccoli Bacon Cranberry Salad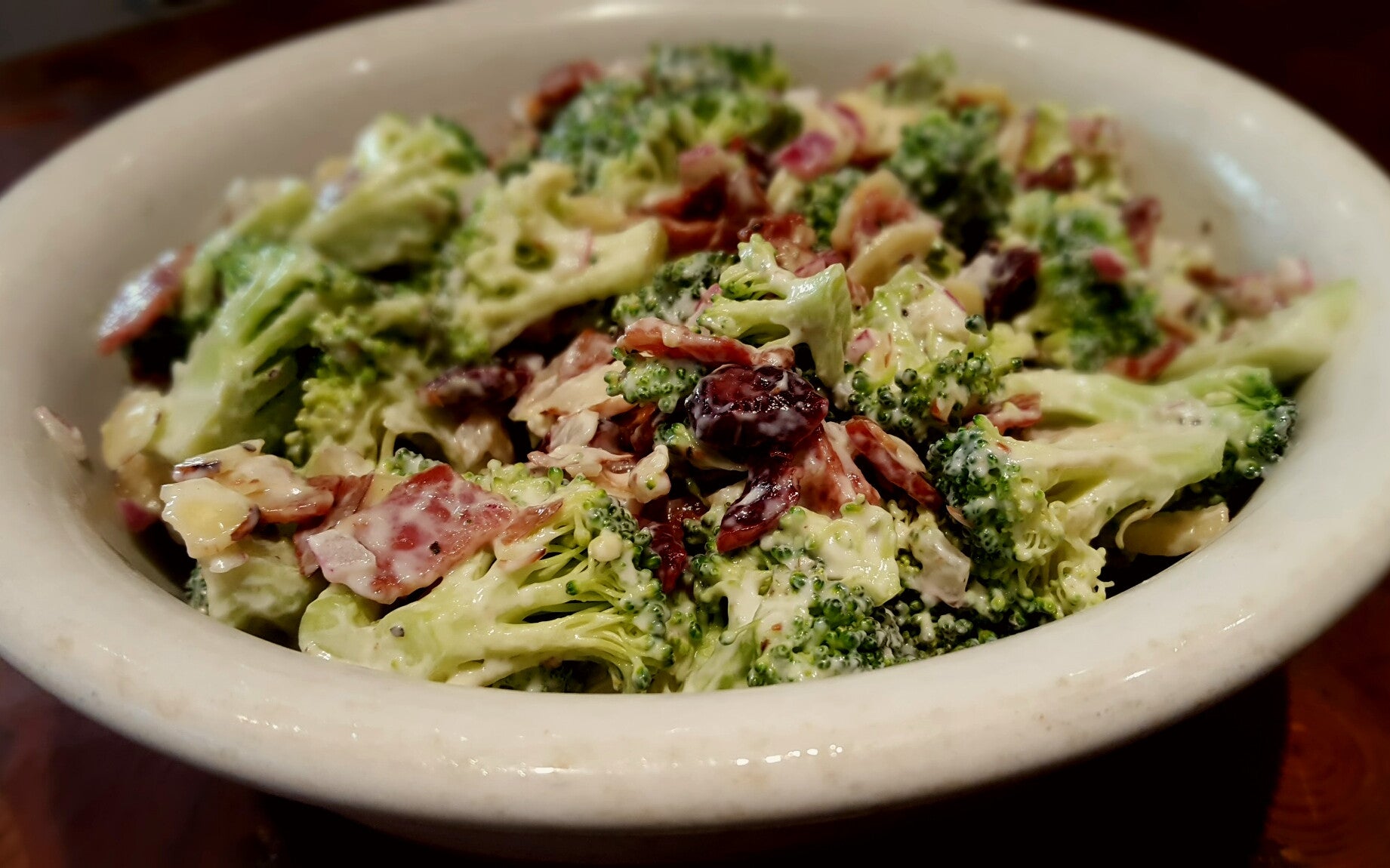 This salad goes great with those summer BBQ's and also those fall holiday Turkey meals. A regular "lets make it" recipe. Full of flavor, full of nutrition and full of protein! Are you ready? I want some NOW!
1/4c /33g Red Onion (finely chopped)
1/4c /33g Low Fat Mayonnaise
1/4c /33g Greek Yogurt (we used Fage 0 or 2% Lowfat)
1 Tablespoon Apple Cider Vinegar
1 Tablespoon Honey
1/4 teaspoon Salt
1/4 teaspoon Pepper
4c /315g Broccoli (bite sized pieces)
1/3c /33g Slivered Almonds
1/3c /43g Dried Cranberries
6 Turkey Bacon slices 
The first thing you will want to do is slice and cut up your Turkey bacon and start cooking it till it's crispy.
Once it is done, with a slotted spoon, transfer it to a paper lined plate to soak up any extra grease. Set aside to cool.
While that is cooking, you can dice up your onion and broccoli.  
In a bowl, put your mayonnaise, yogurt, apple cider vinegar, honey, salt and pepper and whisk it together until it is a nice thick consistency.
Now you can add your broccoli, onion, cranberries, almonds and last, your bacon.
Mix until everything is coated.  Cover this and refrigerate for at least an hour if not more.
Cool, refreshing and FULL of flavor. 
Enjoy!
This recipe makes approximately 5 servings of 1cup/120g each.
Each serving contains,
Calories               182
Fat                        8g
Carbs                   17g
Sugar                    9g
Protein                  12g