Bean and Bacon Soup Slow Cooker Recipe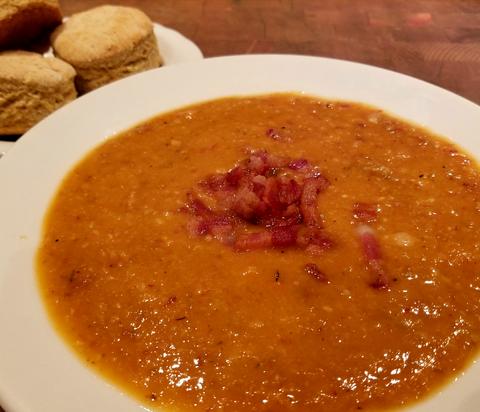 This soup brings back childhood memories for us.  All bundled up, playing outside in the cold with the neighbor kids for hours.  All of a sudden, we hear our mom in the distance calling our names, letting us know dinner is ready.  We drop what we are doing and run home!  Why so fast?  We know what she prepared for dinner, we smelled it for hours, knowing that the time it's been in the slow cooker has helped the flavors to deepen and meld together.  Our mouths are watering as we speak.  It's time to make this!
8 slices Pork Bacon (cooked and crumbled)
16 oz. /410g. dried White Northern Beans
32 oz. / 946 ml. reduced sodium Chicken Broth
1 whole Onion (diced)
2-3 large Carrots (diced)
2 Celery stalks (diced)
4-6 cloves Garlic (minced)
2 Tablespoons Tomato Paste
1/2 teaspoon (each) dried Thyme, Rosemary, Black Pepper
Salt to taste
First, you want to soak your beans according to the packages directions. Either overnight or the fast option (which we did today).
Next, you want to cook your bacon.  You want it nice and brown and crispy. (some of it is going into the soup and will become soft, but cooking it this way will help bring out the best flavor) Once it's done cooking, use a slotted spoon to remove it from the pan, placing it on some paper towels to soak up any additional grease. (we also put one on top and pat it).
While the beans and bacon are cooling off, you can dice and mince the rest of your ingredients.
In a medium mixing bowl, you can whisk up the Tomato paste into the Chicken broth until it is all combined.
Time to put everything together!  Drain your soaked beans and place them into your Slow cooker first.
Next, you can add all your veggies and seasonings.
Stir them all together and then carefully pour the Chicken broth over it.
Add an additional 2 cups/ 473 ml of water to this, because the beans will swell some more and use up that juice.  Sprinkle half of the cooked bacon and stir it in.  Place the lid on and set your Slow cooker on Low 10-12 hours or High 6-8 hours.
Once the time is up, check the beans to see if they are soft.  If they are, at this time you can either pull half of it out and place in a blender to blend, or if you have a immersion blender, you can use it right in the Slow cooker.  BE CAREFUL, it's HOT!  Blend to the consistency of your choice.
Dinner time!  Serve it up into your bowls, sprinkling a bit of the remaining bacon on top.  Eat it with crackers, biscuits, bread or a salad, the choice is yours. 
Hope you enjoy this recipe as much as we do.  :0)
This recipe makes approximately 6 servings of 2 c. / 467g. each.
Each serving contains:
Cal.             239
Fat              6.7g.
Carb.          35.5g.
Sugar         4.3g.
Protein       17.5g.