Avocado Cilantro Hummus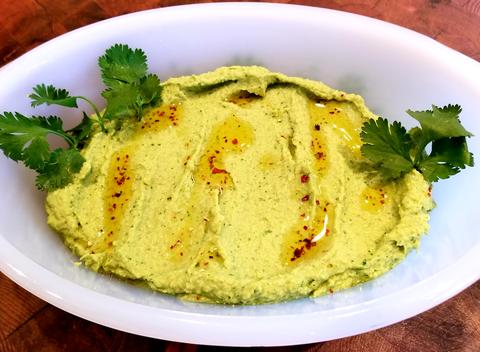 Avocados. We sure seem to eat a lot of them. Can we? Can we really eat avocados every day you ask?
Yes we can. They contain the healthy type of unsaturated fat known to lower cholesterol.  They are also packed with lots of fiber, potassium (more than bananas) and essential vitamins. 
Now, when we say you can eat avocado every day, we still watch the serving size. You have to take in consideration the calories they have. Lately we have been buying some very small ones or if they are medium to large you may want to only eat half or less.  
So, that being said, let's make this Avocado Cilantro Hummus and see if you enjoy it as much as we do.
1 15oz/420g. Garbanzo Beans (drained and rinsed)
1 Large (or 3 small) Avocados
Handful of Cilantro (chopped)
2-3 cloves Garlic (minced)
1 Tablespoon Tahini
Juice of Half a Lemon
2 T. Water
1/4 teaspoon Tajin Seasoning (It's ingredients are, chili peppers,sea salt and dehydrated lime juice. We usually find it in the Hispanic section of our grocery store) If you don't have this, you can just use Salt of your choice.
1/4 teaspoon Cumin
1 Tablespoon Extra Virgin Olive Oil (infused with crushed red peppers) OPTIONAL 
The first thing we do is open our can of Garbanzo beans, place them in our strainer/colander to let them drain. Then we run cold water over them to rinse them off.
Next, place them into your Food Processor (or high powered blender) and start adding all the other ingredients.
Ummm, it's already smelling delicious!
Once all the ingredients (minus the Olive Oil) is in it's time to start processing.
You'll have to stop a few times to scrap the sides.
You'll want to keep blending until you get a thick creamy consistency.
That's it! This is SO EASY it literally can take only 10 minutes from beginning to end.
Time to put it in a bowl, garnish with additional Cilantro and you can drizzle a bit of that Extra Virgin Olive Oil over the top. ( just remember, that will add more calories to the whole recipe).
This whole recipe makes approximately 12 servings of 2 Tablespoons each.
Each serving contains,
Calories             65
Fat                     3g.
Carbs.               8.5g.
Dietary Fiber     2.5g.
Protein               2g.
With the Extra Virgin Olive Oil 
Calories             75
Fat                     4g.
Carbs.              8.5g.
Dietary Fiber    2.5g.
Protein              2g.
This recipe goes GREAT with lasts weeks Blog, "Spicy Cheesy Chicken Fritters" :0)