Bacon Taco Shell Recipe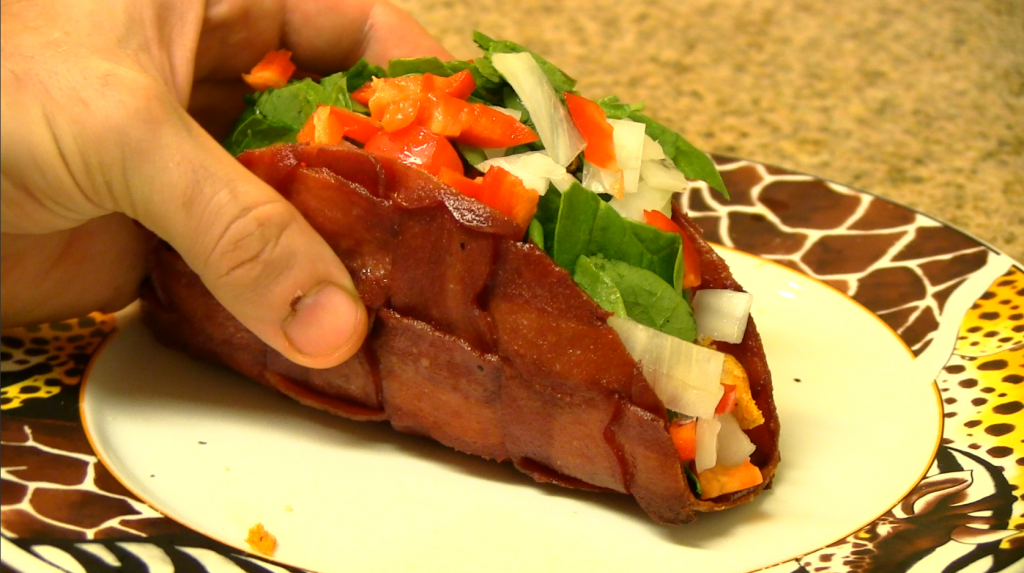 Bacon Taco Shell Recipe
Bacon Taco Shell Recipe
What goes good with meat? More meat. And we've got just the recipe to make that dream a reality. It's called the
Turkey Bacon Taco
, and it's a protein packed Taco which'll have all other meals bowing their heads and packing their bags in shame.
Ingredients:
14 Slice of Extra Lean Turkey Bacon (Amount may vary depending on thickness of your bacon)
4 ounces of cooked & shredded boneless skinless Chicken
Cookie Pan
2 Pint Glasses
Tongs (Make sure they're completely metal – you don't want any plastic, rubber or wood in your oven)
Optional Ingredients:
Spinach or Lettuce
Diced Tomatoes
Shredded Cheese
How-to Instructions:
How to make a Bacon Weave
         Step 1
Begin by laying your bacon strips horizontally. We were able to fit 8 strips horizontally but this may vary depending on the size of your Turkey Bacon. Between 6-8 strips either horizontally or vertically for us has always yielded great results.
Step 2
Start at the top, fold back every other strip to the left. Lay one strip vertically down the middle.
Step 3
Unfold the bacon to the right.
Step 4
Start with the second strip down, fold back every other strip to the left.
Step 5
Lay a strip vertically making sure it is snug with the folded strips. Now unfold the strips to the right.
Step 6
Keep repeating steps until you come to the end of your weave.
Step 7
Now the left side. Start with the second strip down; fold back every other strip to the right. Lay a strip vertically, and unfold the bacon back over to the left.
Step 8
Repeat until you are done! As you can see, we ended up with 8 strips horizontally and 6 vertically. This results in a good sized Taco.
Cooking the Bacon Taco
Begin by pre-heating your oven to 400
°
degrees Fahrenheit. Place the Cookie Pan containing your Bacon Weave once the oven is heated up for about 15 minutes and then take out the bacon weave. Now, place an upside down bowl over
it and trace around it with a knife until you're left with a circular bacon weave.
Once finished, take out your two pint glasses and tongs (you want metal tongs – remember, no rubber, plastic or wood) and stack the tongs across the two glasses. Carefully lay the bacon weave over the tongs and put them back into the oven for another 15 minutes.
Next, take the Taco out of the oven and carefully remove it from the (hot!) tongs. Fill it up with your 4 ounces of chicken and whatever else you'd like to throw on top and you're finished!
Ready? It's
Turkey Bacon Taco
time!
(nutrition facts for just the 14 slice of extra lean turkey meat & 4 oz boneless skinless chicken)
Nutrition Facts
Serving Size 1 Taco
Servings Per Container 1
---
Amount Per Serving
Calories 430
Calories from Fat 126
% Daily Value*
---
*Percent Daily Values are based on a 2,000 calorie diet. Your daily values may be higher or lower depending on your calorie needs.