Evil Dead Brownies Recipe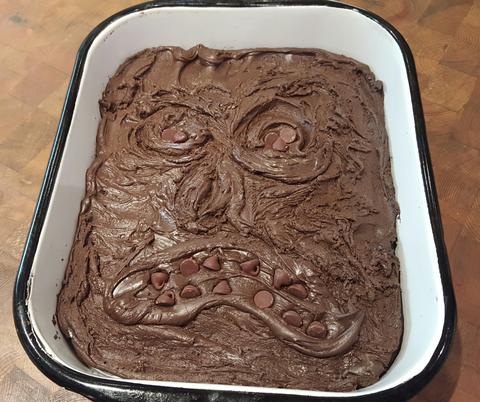 The Necronomicom-nom-nom-nom...roughly translated: The Brownies of the Dead. This evil Halloween brownies recipe is sure to be a hit in any household looking for a scary snack. Just be sure to avoid awakening the ancient thousand year old Deadites that come along with it, ok?
 
In one bowl, mix all your dry ingredients together.
In a smaller bowl, whisk your wet ingredients together.
In a small sauce pan, melt the Coconut oil and 1/4 c. Chocolate Chips together. (You can do this in a microwave safe bowl if you'd rather)
As soon as they're combined, remove from the heat.
Now you'll pour your wet ingredients over the dry.
Mix it just enough to combine then pour your melted oil & chocolate over that and fold it in.
Lightly oil your 8x8 pan and pour your Brownie mixture in.
Sprinkle those 2T. of Chocolate chips over it.
Bake at 350 for 18-20 minutes.
That's it! Look how DELICIOUS these look!
I half expected something to happen while they baked. I mean, they ARE called the "Brownies of the Dead"!
The next step is walking away and let these cool for a few minutes before you can cut into them. 
Alright, we're all finished! Now the final step is easy, all we've got to do is say these simple ancient words out loud and we'll be protected from the evil Deadites. Ok, here we go: Klatu, Varata, Nick - wait, that's not it. Let's try that again: Kalu, Varamna, Nihn...ugh, what were they again? Uh oh...this might not be good...
Ok, let's cut into this..... (SCREAM!!!)
Cut this into 12 Brownies.
Each Brownie contains:
Cal.         100




Fat.         5.5g 




Carb.       11.5g 




Sugar.     7g




Protein.  5g