Pumpkin Protein Energy Cookies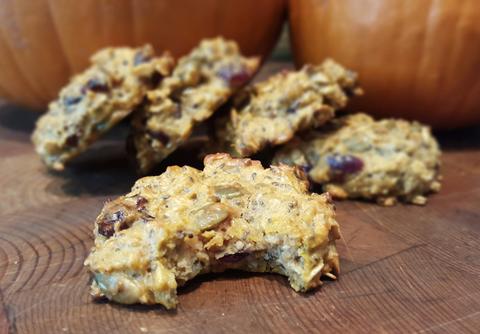 Is your energy low? 
Feeling like you're dragging?
Need a snack but just don't have time?
Ok, ok, that probably sounded like the beginning of a cheesy late-night infomercial. But wait, there's more!
If you're suffering from lack of time and lack of energy then maybe the little hand is telling you to make these super easy, super delicious Pumpkin Protein ENERGY packed Cookies so you can just grab and go!
Are you ready? Let's do this!
1/4c. - 50g  Coconut oil (melted)

1/4c. - 70g Agave (or Honey)

3 whole Eggs

1/2c. - 140g 100% Pure Pumpkin Puree 

1c. - 100g  Old Fashioned Oats

1c. - 90g Quick (instant) Oats

3 scoops Vanilla Whey Protein

2/3c. - 90g Dried Cranberries 

2/3c. - 90g Pumpkin seeds

1/4c. - 35g Ground Flax seeds

1/4c. - 38g Chia seeds

1t. Pumpkin Pie Spice ( or 1/2 t. Cinnamon, 1/4t. Allspice & 1/4t. Nutmeg)


1/2 t. Salt
In one mixing bowl, combine all your dry ingredients.
In another (microwave safe) melt your Coconut oil, add your Agave then the eggs. Whip it up.
Add this along with the Pumpkin, to your dry ingredients and mix well.
Drop onto your baking sheet (lightly sprayed with coconut  oil) and press them down a little. This way they will cook evenly.
Bake at 325 for 15 to 20 minutes.
Let cool. Keep in air tight container. Refrigerate if they last longer than a couple days
Enjoy!
This recipe yields 24 cookies at 1.25oz - 35g each
Each cookie contains:
Calorie.        95
Fat.               4.5g
Carb.             9g
Sugar.           3.5g
Protein.        5g