Slow Cooked Chili w/ Sweet Potato, Lentils & Chickpeas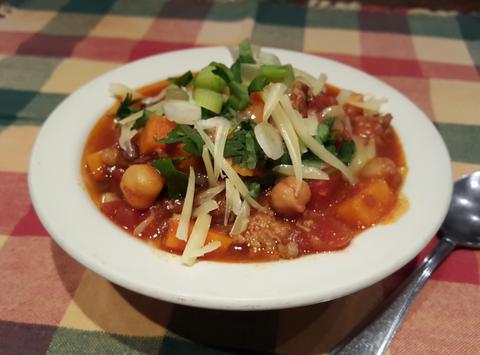 If you've been following our recipes you know we love anything that involves the Slow Cooker. It's a super inexpensive kitchen tool which makes making food a BREEZE and our Slow Cooked Chili w/ Sweet Potato, Lentils & Chickpeas recipe is no different! 
Throw the items into the slow cooker, walk away and six hours later *boom* - you've got yourself a few days worth of meals ready to go! How easy is that?
Alright, enough talking, let's get to it!
1 1/2 lbs -680g Ground Turkey




1 medium Yellow Onion (diced)




1T. Olive oil




1 large Sweet Potato (peeled & diced)




1 15oz - 420g Chickpeas (drained & rinsed)




1c. - 235g. Lentils (uncooked, rinsed & drained)




2 14.5oz - 822g. Diced Tomatoes 




6oz - 170g. Tomato Paste in 2c. -500ml warm water




1c. - 250ml Chicken broth




2 or more Garlic cloves (minced)




2t. Paprika pdr.




1t. Chili pdr, Cayenne pepper & Cumin




1/2t. Cinnamon
First sauté your onions for a few minutes in the olive oil and add the ground turkey. Cook until it's no longer pink.
Put this in your slow cooker.
Add the diced sweet potatoes,  lentils, chickpeas and all the spices.
Stir until everything is combined and coated with the seasoning.
Now add the diced tomatoes and slowly pour your tomato paste mixture and broth over it all.
Stir it all together and make sure everything is covered.
Time to put the lid on, set for Low 8-10 hrs or High 4-6 and walk away!
How easy is that?
Delicious and Robust! You've got to give this a try.
Enjoy!
This recipe yields approximately 8 servings of a generous 2c.- 455g. each.
One serving contains,
Cal.          224




Fat.          14g




Carb.        23g




Sugar.       6g




Protein.   29g