Spicy Shredded Beef Slow Cooker Recipe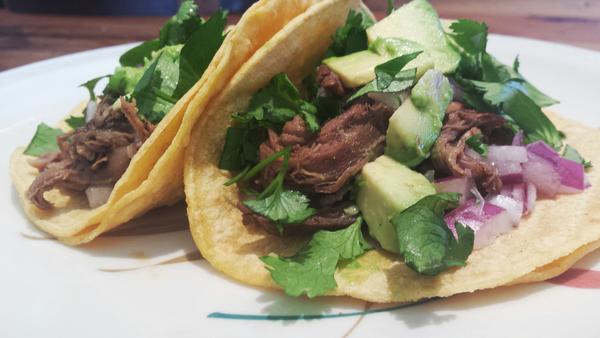 As we've said in prior recipe blogs our handy Slow Cooker is a life saver. Not only are they cheap and easy to find, you just grab your ingredients, throw 'em in the pot, turn it on and 4-6 hours later - BAM - you're food's cooked and good to go.
So are you ready for a bulk? Well, you've found it with this recipe. Today we're going to be making the protein & calorie packed Spicy Shredded Beef Slow Cooker Recipe.
Ok, 'nuff said, let's get to it!
3 lb./ 1334g. Beef Roast
1 t. S & P
2T. Olive oil
6 or more garlic cloves (cut in half)
1 lg. /150g. Onion (chopped)
1/2 c. / 125 ML Red Wine
1/2 c. /70g. Canned Green Chili's
1t. Chili Powder
1t. Cayenne Pepper or Cumin (we used Cumin this time)
1/2t. Smoked Paprika
1/4 t. S & P
1 1/2 c. / 400 ML Beef Broth
Canned Chipotle Peppers. (Approximately 4 with some sauce )
2 or more Fresh Whole Jalapenos
First, criss cross some deep holes all around your Roast. Once you've done that, stuff a piece of Garlic into each hole. Nice and deep so they don't fall out. Next, rub the teaspoon of salt and pepper all over your roast. Set aside.
Now heat a frying pan on medium heat and add your Olive Oil. You will want to sear your Roast on all sides for several minutes each.
( Doing so will give your meat an incredible depth of flavor. It caramelizes the surface of the meat, which enhances the savory "meat" flavor and fills the finished dish with complex layers of nutty caramel and coffee - like bitterness)
We like it.
While your meat is searing, take this time to cut up your onion and blend all your spices in a bowl.
When all sides are golden and crispy looking, transfer your Roast to your slow cooker.
Keep that same pan on the stove at medium to low heat.
Sauté your onions until barely translucent.  Add your wine and stir and scrape the pan to make sure you are getting all the caramelized remnants from the meat. Now pour this over your roast.
Next, add your Green peppers, Chipotle peppers, your Spice mixture and pour the Beef Broth over all of it. Stir it around then top it with the Fresh Whole Jalopenos.
Time to place your lid on, put it on High for 6 hours and walk away!
Once the 6 hours is up, check your roast.  Using a large fork,  see if you can spear and pull the meat apart. If it comes away easily, it's done.
Carefully remove the Whole Jalopenos and set them aside.
(For those who like it a little extra HOT )
Time to pull it out and put on a large platter or bowl. With two forks, start at one side and pull the meat apart, shredding it.
( See the Garlic? When you shred it apart with the meat it will disolve into the juices.)
Once you have it all shredded, carefully pour this back into the juice in the slow cooker. Place this on WARM and you are ready to serve it up.
Tonight we're using this for Tacos.
Enjoy!
This yields approximately 4c. / 789g. It depends on the actual size of your roast.
8 servings of 1/2c. /98g.
Each serving contains,
Cal.           414
Fat.           30g
Carb.        3.8g
Sugar.      0
Protein.    30.25