2 Ingredient Chocolate Cake - Easy Recipe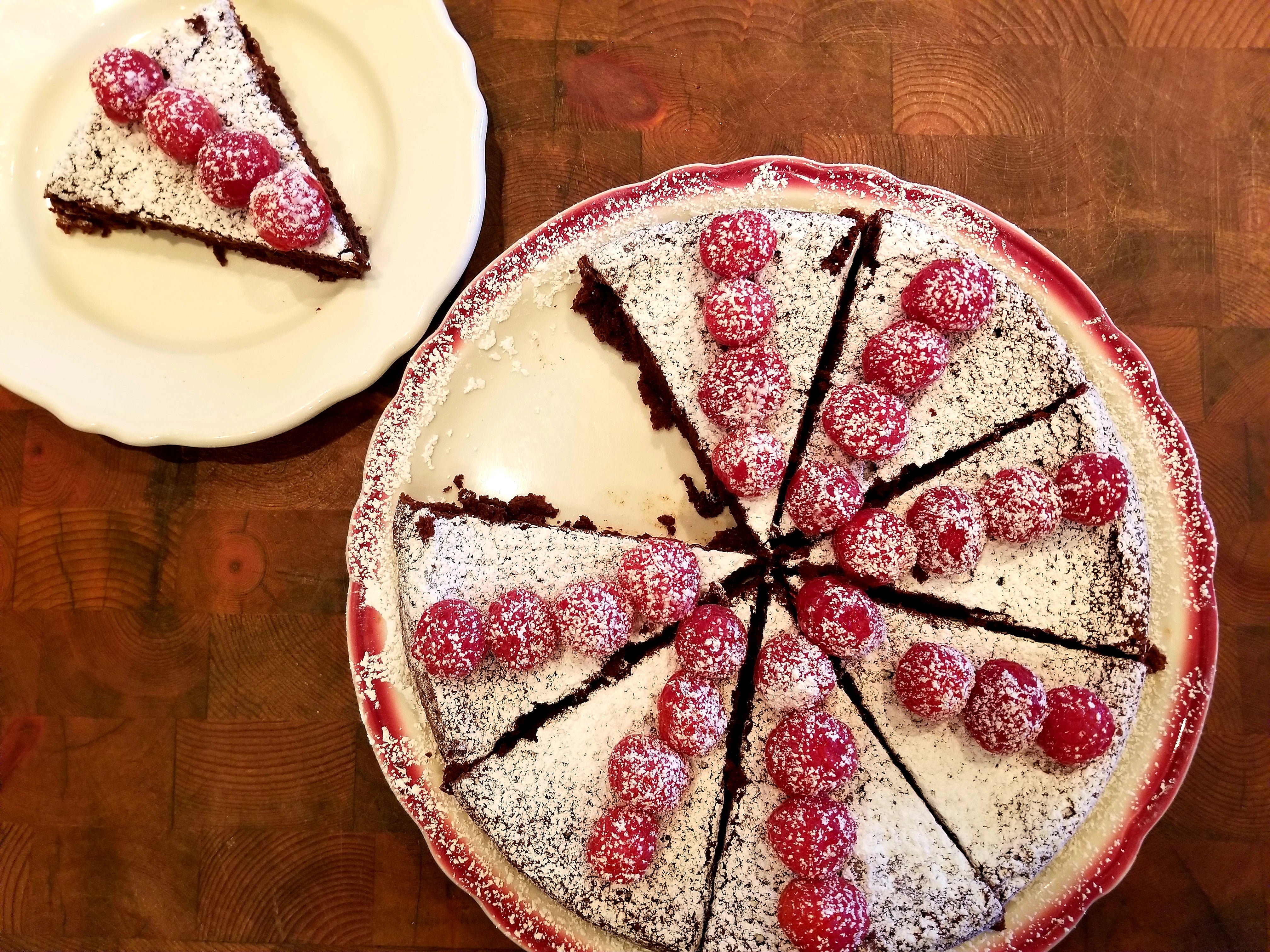 We're BACK! (from a very long break)
To celebrate, we thought we would have some CAKE!  To make it easy, we'll only use 2 ingredients today (not including the toppings).
Chocolate and eggs.
That's it! No flour. No oil or butter. No added sugars.
We like this recipe for the following reasons,
Dark Chocolate can be very healthy in reasonable amounts, (the higher Cocoa content, 70-85%, the better. It's just a bit more bitter). 
It is rich in Fiber, Iron, Magnesium, Copper, Manganese and a few other minerals. It is a powerful source of Antioxidants. It may assist in lowering Blood pressure, reduce Heart disease risk and improve Brain function. 
This is just a very small and condensed version of the benefits of Dark Chocolate.
Eggs are a very good and inexpensive source of high quality protein. They are rich sources of selenium, vitamin B2, D, B6, B12. Plus zinc, iron and copper. 
So, even though these sound so healthy and good for us, can they make a good tasting cake using only the two of them?  Well, let's get going and find out!
4 Large Eggs (separated)
12 oz/340g. Dark (semi sweet) Chocolate (chips or bar/broken up)
First, you will want to pre-heat your oven to 325F/170C.
Then, place your chocolate into a microwave safe bowl (or use a double boiler if you have one). The bowl will need to be big enough to hold all the ingredients.  You will be mixing in the eggs into the chocolate.
Microwave it on high for 30 seconds, remove and stir and repeat. It took us approximately 2 1/2 minutes total to get a nice melted creamy texture.
Set this bowl aside to cool down a bit. Now you want to separate your egg whites from the yolks. Using your electric mixer, whip up the egg whites until they are fluffy and have a nice firm peak. 
By now your chocolate should be cooled down. Enough to add one egg yolk at a time. Mixing each one in separately until well combined with the chocolate.
It's time to add the whipped egg whites one third at a time.  
Add one third of them and using a soft spatula, swirl around your bowl and fold over, swirl and fold, swirl and fold. Do NOT stir fast or whip it. That will reduce the air that was infused into the egg whites. 
Once it is combined, repeat with the next third and then the last.  By now, you should have a cake like batter.
We are using a 9 inch cake pan, greased and parchment paper placed inside. Pour your batter into the pan and bake it for 30 minutes. 
Once the 30 minutes is up, remove the cake and let it set for 10-15 minutes to cool.  It will settle (drop) just a bit, this is normal.  Using a knife, scrape around the edges to make sure it's not sticking to the pan. Place a plate upside down over the cake and carefully turn it over onto the plate.  Remove the parchment paper.
That's it! 
You are done! 
We think you will be surprised at how smooth, dense and creamy this is. It almost melts in your mouth! Look, it even has crumbs like a regular cake!
If you are by yourself, you can just eat it plain.  Or, if you are making this for someone special, you can add toppings of your choice. 
Just remember, whatever toppings you use, you will have to add those calories, fats, carbs, sugars and proteins!
Today, we added a bit of Confectioners (Powdered) sugar and some fresh Raspberries.  We'll give you the breakdown of this cake by itself and with our toppings.
We hope you give this a try and if you do, please share your thoughts with us! 
We cut this into 8 slices. 
Each slice (without toppings) contains,
Cal.           236
Fat            14g.
Carb.        28.25g.
Sugar        23g.
Protein      6g.
The toppings we used for the full recipe was,
4.40oz/123g. Fresh Raspberries
1/16c / 7g. Confectioners (Powdered) Sugar-sifted onto it.
Each slice (with these toppings) contains,
Cal.          247.75
Fat           14g.
Carb.        31.25g.
Sugar       24.5g.
Protein      6.20g.
***Compare that with an average Chocolate cake you may buy at a store bakery. Decadent ones from restaurants would be even more!
Per slice,
Cal.          424
Fat            22g.
Carbs.      58g.
Sugar       44g.
Protein      3.8g.