Light & Spicy Coleslaw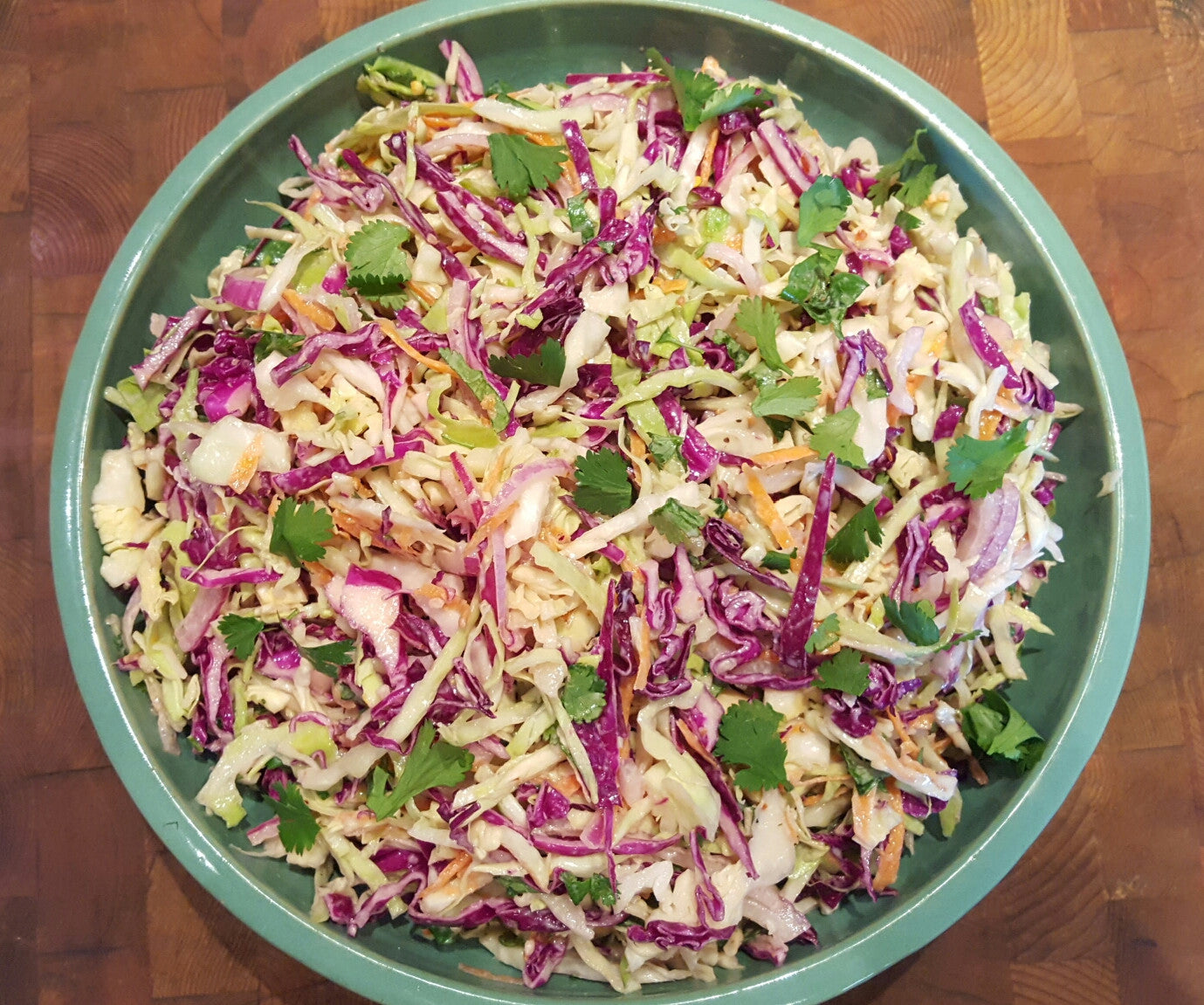 Want to add a little crunch to your sandwich, taco, wrap or tostada?  Need a bright refreshing side with your burger, chicken nuggets or pulled pork sandwich?  Want a little kick with your meal?
Well, this might be it!  It's light, crunchy, colorful, spicy and delicious.  Sound good? Ok than, let's make it!
1 small (around 2lb/960g) Green Cabbage, sliced thin
1 small (around 1lb/450g) Red Cabbage, sliced thin
1/2 Red onion, slice thin
2 Carrots, grated
Handful of Cilantro, chopped
1/2c / 126g Plain Greek Yogurt
1Tablespoon Light Olive Oil
Juice from 1 Lime
2 cloves Garlic, minced
1 Tablespoon Dijon Mustard
1 teaspoon Crushed Red Pepper flakes
S&P to taste
First, you will want to rinse your Cabbage and pull off any outside wilted leaves.
Next, cut them in half and slice the core out.  Once the core is out, start to thinly slice the Cabbage.
Than, slice the onion, shred the Carrots, and chop the Cilantro. Putting them all in your largest bowl to mix it all up.
 Time to mix up the dressing.  In a small bowl or measuring cup, place the Yogurt, Olive Oil, Lime juice, minced Garlic, Pepper flakes and S&P.  Whisk this till it's all combined and smooth.
Pour this Yogurt dressing over the Cabbage and mix well.  You want to make sure everything is covered.  
You can serve it up right away or cover it and put it into your fridge for an hour or so to really soak up all the flavors.  As with any Slaw, with time it actually tastes better and better.
This is a LARGE recipe.  It makes approximately 12 servings of one heaping cup/138g each.
Each serving contains:
Calories         50
Fat                 1.5g
Carbs             8g
Sugar             4g
Protein           2.5g
Enjoy!