Turkey Stuffed Pablano Peppers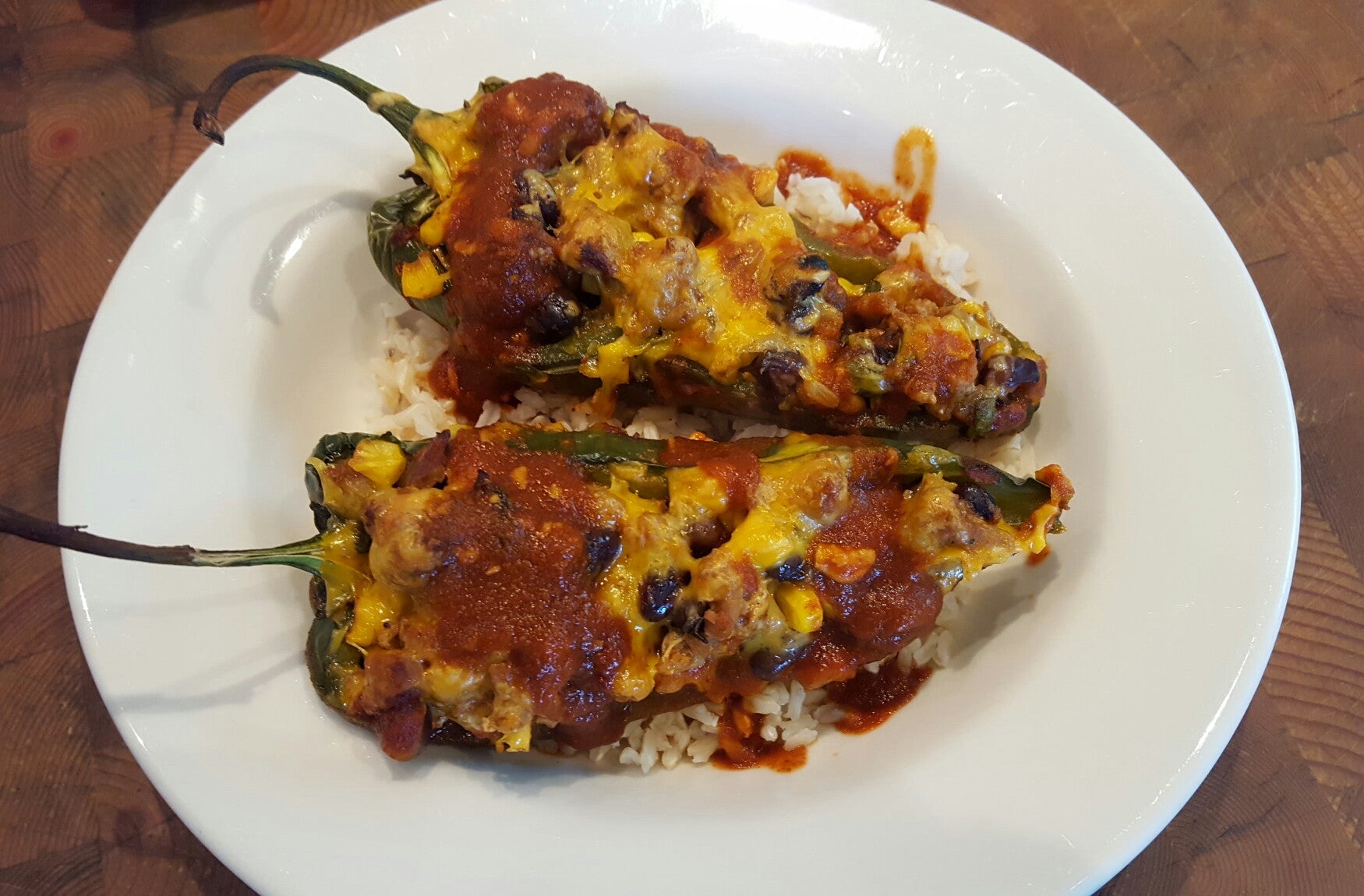 Most of these ingredients are probably already in your cupboards or freezer.  These Pablano Peppers are pretty mild, but you can use Green Bell Peppers if you wish.  We have also made this recipe with shredded Chicken when we didn't have Turkey. 
That's the fun thing about cooking.  You can switch it up and change a recipe to your individual liking.  This one is so easy we'll have it done within the hour.  Let's go!
4 Poblano Peppers
1 lb./453g. Ground Turkey
1/2 Red Onion= 1c./130g. (chopped)
1 15.25oz/432g. can of Corn
1 15oz/425g. can of Black Beans
Handful of Cilantro (chopped)
1/2c/50g. Shredded Cheddar Cheese
2 10oz/283g. cans of Enchilada Sauce (red, green, mild, hot)
1c/195g. Brown rice (cook according to package directions)
1 teaspoon Garlic Powder
1/2 teaspoon Cumin
Dash of Salt & Pepper to your taste.
First, after you have washed the Peppers, cut them length wise, remove the seeds and set on a baking sheet (we leave the stems on to help keep their shape once baked).
Turn your oven on to High Broil.  Place your baking sheet with the peppers under the broiler.  Only a few minutes on each side.  You'll be giving them a little Charbroil taste that adds that extra "yum" to this recipe.  Remove them from the oven and set aside.
While the Peppers are in the oven, you can saute your onions until just soft and then add the ground Turkey.  To this, add the Garlic powder, Cumin and Salt & Pepper. 
When your meat is cooked through, remove this from the burner and set aside to cool with your Peppers.
Drain and rinse your Black beans and Corn and put them into a mixing bowl.  Add the chopped Cilantro and by now you can add the cooked Turkey & onions. Pour half of one can of the Enchilada Sauce over this mixuture and stir.
Pour the rest of this can and the other full can of Enchilada sauce into a baking dish.
Time to stuff the peppers!
Place them on top of the sauce in the baking pan.  Sprinkle evenly with the cheese.
TIP: If you end up with extra stuffing mixture store it in airtight container in your fridge. It's delicious for a quick snack with our homemade Tortilla chips or in a hot flour Tortilla as a burrito. Even in a heated Corn Tortilla as a Taco!
Time to bake for 30 minutes at 400 degrees.
While they are baking, cook your rice according to the packages directions.
When the 30 minutes is up, carefully pull out the pan and let it rest for several minutes.
Place 1/2c/105g. of rice on your plate and top it with 2 Pepper halves.  You can drizzle some of the sauce over them and dig in!
This makes four servings of one pepper (two halves) each.
Each serving contains,
Cal.               282
Fat                9.5g
Carb.            29.5g
Sugar             5g
Protein          25g