Chocolate Peanut Butter Protein Cups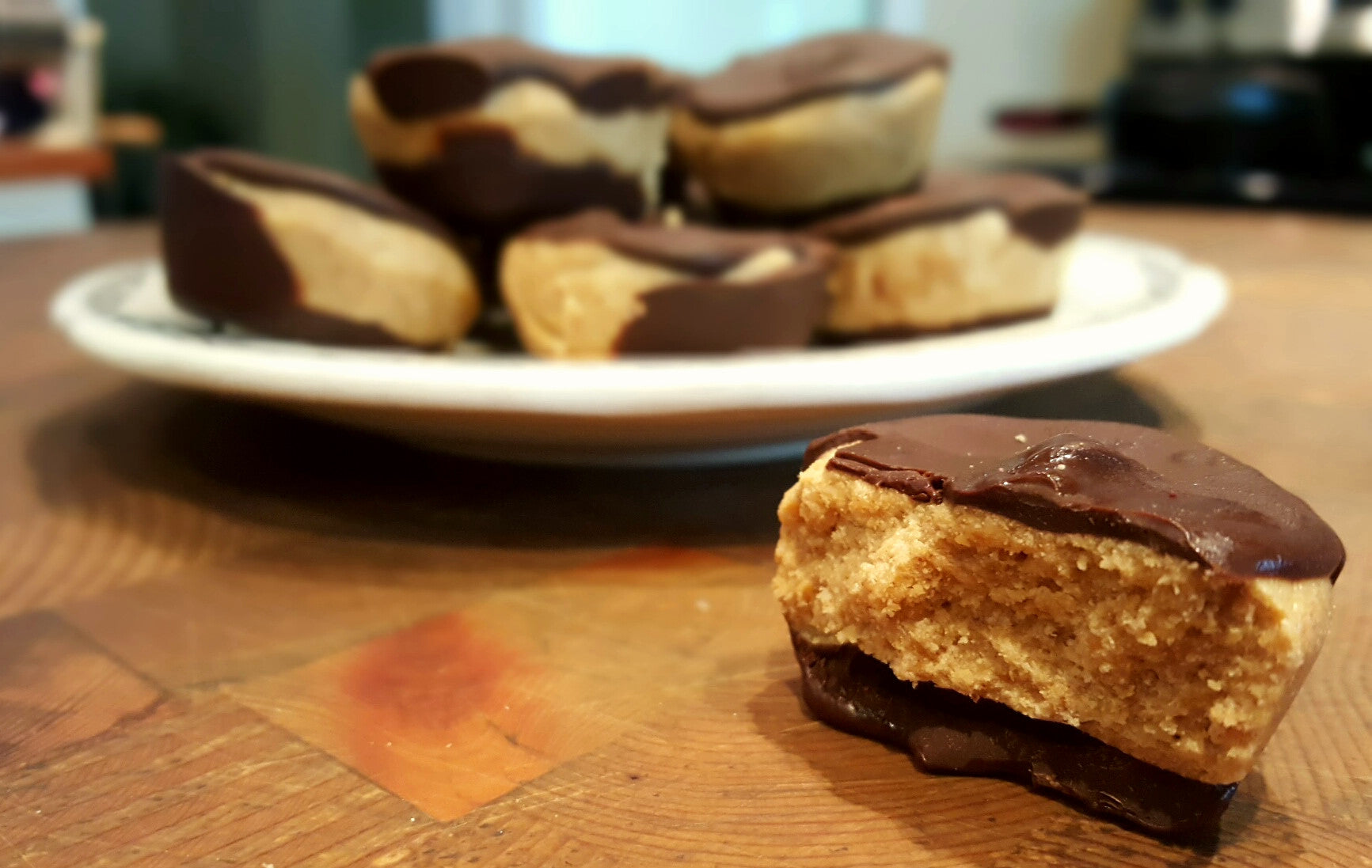 Did you know that Dark Chocolate (70-85%Cocoa) has been linked to some very serious health benefits?
Nutritious. A powerful source of Antioxidants. May improve blood flow & lower blood pressure. Also may lower the risk of Cardiovascular Disease.
All in moderation of course.
So here is one of our new favorite snacks.  Quick to make and will keep in the fridge for several days.
Lets go!
1/2 c/125g. Peanut Butter (we used Natural Creamy)
2 scoops Unflavored Whey Protein Powder (we've also used Vanilla or Peanut Butter)
9-10 Blocks Dark Chocolate (or if you choose to use Chocolate chips 1/2c/90g)
We took a small pan and put a cup of water in it. Set the temperature to medium/high. We took a small glass bowl and set that on top. (Look, we just made a double boiler!) Next, we placed our chocolate blocks in the glass bowl. As it heats from the boiling water, it will melt quickly but not burn. 
While your chocolate is melting, mix your peanut butter and protein powder together. Divide it into 12 equal balls and flatten them out a bit.  Let them set while you stir your melted chocolate and put about 1/2 teaspoon into each of your Mini Muffin cups.  
Now, place your flattened Peanut Butter balls into the cups and top them off with the other 1/2 teaspoon on each cup.  Spread it around to cover.
Place this into your Freezer for up to an hour.
Once they are frozen, using a butter knife, carefully pop them out of the Muffin tins and place them into a covered refrigerator container. That's it! How easy was that? 
Enjoy!
This recipe makes 12 Mini cups (1.05oz/28g. to 1.15oz/31g) each.
Each serving contains approximately,
122 Calories
8g.  Fat
8g.  Carbs
5g.  Sugar
6.5g. Protein