One Pot Pork Tenderloin with Potatoes & Carrots Recipe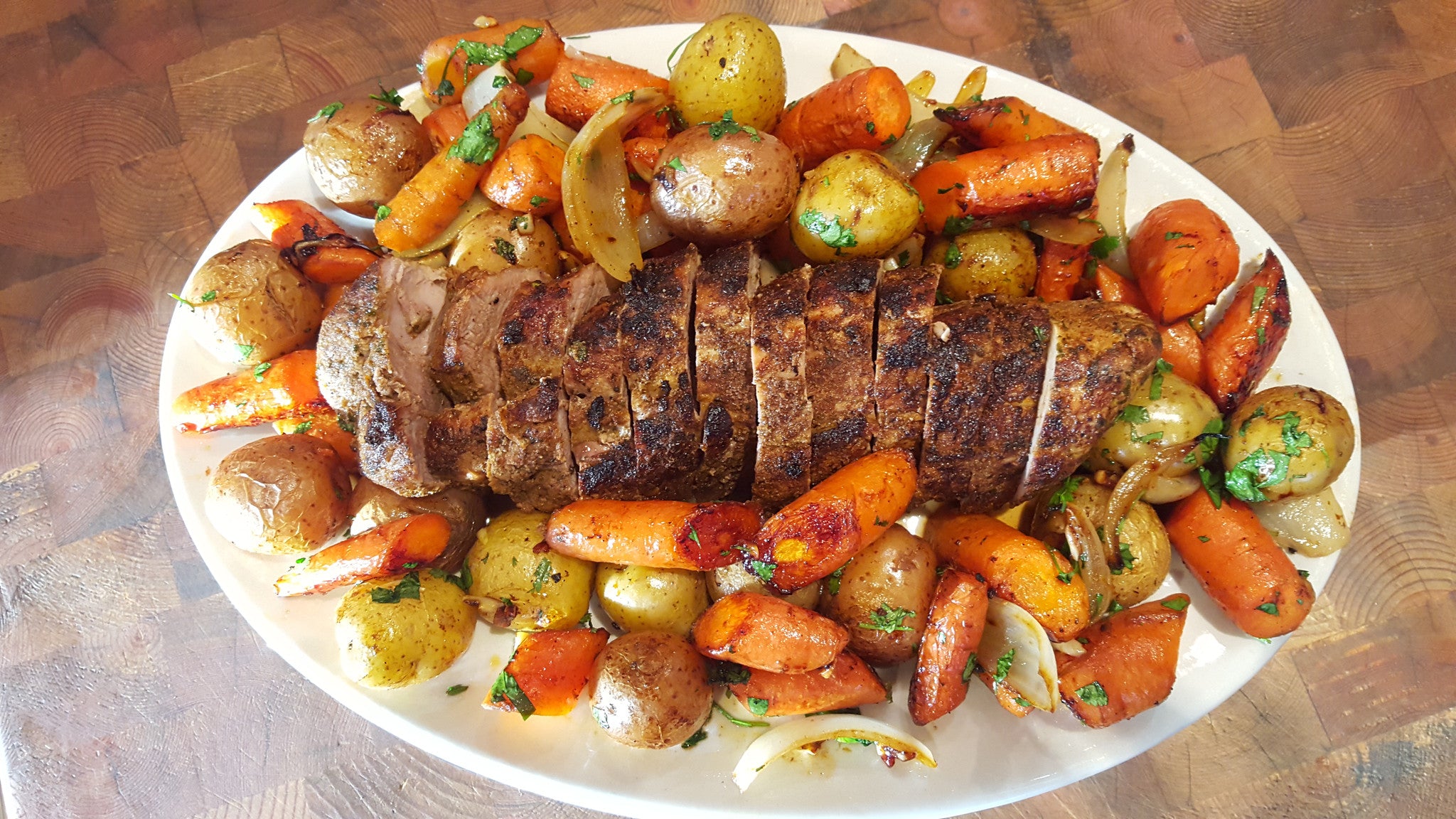 Pork Tenderloin. Mmm...sounds delicious. But one pot is also in the title. What is one pot, you may ask? One Pot is basically the definition of how easy to is to make the recipe. You've got one pot that you use for every step of the way and only one pot to wash when you're finished with the recipe. Sounds simple, right? It is! 
Now, back to that delicious Pork Tenderloin recipe. Are you ready to cook it up? We are as well. Let's do this!
(Want some more recipe ideas? Don't forget to check out our FOOD instagram @buffdudesfood!)
1 1/2 lb. (540g.) Pork Tenderloin

18-20 Baby/Small Potatoes (keep whole)

6-8 Carrots (chopped to approximately Potato size)

1 Yellow Onion (sliced into wedges )

4-6 cloves Garlic (chopped)

1t. Ground Cumin, Chili Pdr., Garlic Pdr & Dried Cilantro

S&P to taste

1/2 c. (25g.) Fresh Cilantro (chopped)
First, in a small bowl, mix your dried spices.  
Sprinkle over your meat and rub it in evenly until it's completely coated and remember to wash your hands after handling raw meat. 
Now, preheat your oven to 450 degrees. While the oven is preheating, take your one pot and on medium to high heat sear your pork tenderloin on all sides. You're going to want to cook it until you have a golden crispy exterior. (Approx. 2-3 minutes each side)
Now add another 1T. Oil to the pan and add your veggies. Stir around a bit. Pop it into the oven (uncovered) for 20 minutes. You want the meat to reach at least 160 degrees in the thickest portion. 
Remove your meat and cover it on a plate with foil to "rest". Meanwhile stir your veggies and put back into the oven for up to 8 more minutes.
Start checking at 6 minutes. Once they are golden and soft, they're done! 

Mix in your chopped Fresh Cilantro now. Plate them up, slice the Pork Tenderloin and add to the plate. Make sure to pour all the juices that were released from the meat over everything.
Dividing this into 4 servings, each one contains approximately:
Cal.         301

Fat.         13g 

Carb.       18g 

Sugar.      4.5g 

Protein.   30g
Enjoy this Super Easy One Pot Meal.